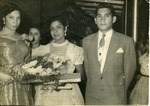 Title
Elia Cruz, 1951 - 2001
Identifier
BD0010-20140927-CruzElia
Files
Download BD0010-20140927-CruzElia-001-1.tif (30.1 MB)
Download BD0010-20140927-CruzElia-001-2.tif (31.2 MB)
Download BD0010-20140927-CruzElia-002-1.tif (36.5 MB)
Download BD0010-20140927-CruzElia-002-2.tif (36.6 MB)
Download BD0010-20140927-CruzElia-003-1.tif (51.8 MB)
Download BD0010-20140927-CruzElia-003-2.tif (51.8 MB)
Download BD0010-20140927-CruzElia-004-1.tif (34.8 MB)
Download BD0010-20140927-CruzElia-004-2.tif (34.8 MB)
Download BD0010-20140927-CruzElia-005-1.tif (12.1 MB)
Download BD0010-20140927-CruzElia-005-2.tif (12.1 MB)
Disciplines
Latin American History
Description
File 1 (2 parts): Graduation of Elia Garcia Ortiz from Miguel Saenz Gonzales primary school; with Concepcion Gonzales, Bardomiano Montelongo; taken at Matamoros, Tamauilipas., 1955. 4.5"x 6.5"
File 2 (2 parts): Charro Days Festival; Eufenia Flores and Joel Garcia Cruz (brother); taken at Brownsville, Texas., 196. 5"x 7"
File 3 (2 parts): L-R: Professor Geronimo Guevara Marrufu, Supervisor of secondary school Elia Garcia Ortiz, Principle organizer Omar Zamorano Ayala of Matamoros, Tamauilipas, Mexico; Professor Miguel Angel., 2001. 8.5" x 6"
File 4 (2 parts); Ceremony for Ramon Guillen Balboa, 4th from the left; taken in Matamoros, Tamaulipas;, 1955. 5" x 7"
File 5 (2 parts): Reymundo Garcia Cruz (brother), Elia Garcia, Juan Miguel Ortiz (son), Alma Cruz (daughter); taken at Playa Bagdad, Matamoros, Tamaulipas, 1972. 3.5" x 3.5"
Physical Description
.TIF, 10 files, 331 MB
Recommended Citation
Brownsville History Harvest 2014, UTRGV Digital Library, The University of Texas – Rio Grande Valley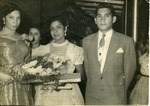 COinS