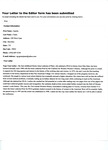 Identifier
BD0010-20171014-CantuRosalesJuanita-IreneLedesma
Files
Download BD0010-20171014-CantuRosalesJuanita-01.jpg (400 KB)
Download BD0010-20171014-CantuRosalesJuanita-02.jpg (417 KB)
Download BD0010-20171014-CantuRosalesJuanita-03.jpg (408 KB)
Download BD0010-20171014-CantuRosalesJuanita-04.jpg (589 KB)
Download BD0010-20171014-CantuRosalesJuanita-05.jpg (470 KB)
Download BD0010-20171014-CantuRosalesJuanita-06.jpg (258 KB)
Description
Documents and correspondence pertaining to Dr. Irene Ledesma, a former UTPA professor. Juanita Cantu includes a letter to the editor containing a brief biography of Irene, an article written by Dr. Ledesma titled, Texas Newspapers and Chicana Workers' Activism, 1919-1974 [https://doi.org/10.2307/970655], and guidelines for the Irene Ledesma Prize for Ph.D. graduate student research in the history of women in the American West.
Physical Description
.PDF, 6 Pages
Recommended Citation
UTRGV History Harvest (BD-0010). UTRGV Digital Library, The University of Texas – Rio Grande Valley.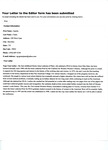 COinS