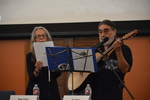 Title
Joe and Rosa Perez ballad performance, Dionicio Maldonado
Identifier
BD0010_20171014_PerezJoe_Rosa_02
Description
Año de mil novecieñtos fecha buena el día primero.
Mataron tres Mexicanos esos rinches de Laredo.
Cuando llegaron a Bruni Las puertas tenían candado.
El que fue al atraer la llave fue Dionicio Maldonado
Cuando abrieron ya las puertas Aguilar estaba herido.
"Fuerzas son las que me faltan valor siempre lo he tenido."
Oliveira como el era hombre le dio riendas a su caballo.
"Éntreles rinches cobardes a pelear con este gallo."
Un rinche que estaba alli salto como una gallina.
Salió corriendo para afuera cuando vio una carabina.
Si les preguntan sus nombres, no la vayan a negar fue Dionisio Maldoando, Oliveira y Aguilar.
Physical Description
.MP4, 00:02:09, 162 MB
Recommended Citation
UTRGV History Harvest (BD-0010). UTRGV Digital Library, The University of Texas – Rio Grande Valley.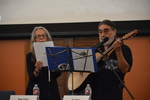 COinS