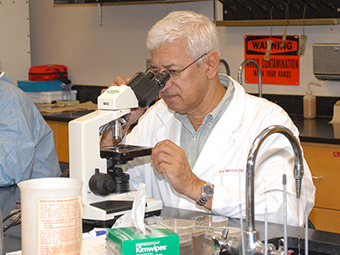 Title
Cover crops for weed suppression in organic vegetable systems in semiarid subtropical Texas
Publication Date
2-4-2020
Abstract
Economic losses due to weeds are exceptionally high in organic agriculture particularly in tropical and subtropical growing regions where weeds are persistent year-round. For organic vegetable growers, weed control accounts for the largest portion of labor effort to produce crops. The use of cover crops during fallow period has gained popularity among organic growers who cannot use synthetic herbicides on their farms for weed management. We conducted a 2-year study in a certified organic vegetable farm in the semiarid subtropical region of south Texas. We compared cover crop canopy closure, cover crop and weed biomass, and subsequent weed emergence in cash crops after cover crop termination for four different cover crop treatments: sudangrass (Sorghum × drummondii), sunn hemp (Crotalaria juncea), cowpea (Vigna unguiculata), and a mix of the three species. Sudangrass produced the highest biomass followed by the three-species mix in 2017, while cowpea treatments had the lowest total cover crop biomass in both years. Weed biomass was the highest untreated fallow (control) and there was no significant difference among the four cover crop treatments. When followed by subsequent cash crops, the weedy fallow plots had significantly higher weed biomass in both years, and in 2018, sunn hemp plots had the lowest weed biomass. Overall, our results indicate that cover crops, especially those with the ability to grow quickly and develop a closed canopy or known to have allelopathic properties, have the potential to control weeds in organic vegetable farms in semiarid subtropical Texas.
Recommended Citation
Soti, P., Racelis, A. Cover crops for weed suppression in organic vegetable systems in semiarid subtropical Texas. Org. Agr. 10, 429–436 (2020). https://doi.org/10.1007/s13165-020-00285-4
Publication Title
Org. Agr.
DOI
10.1007/s13165-020-00285-4