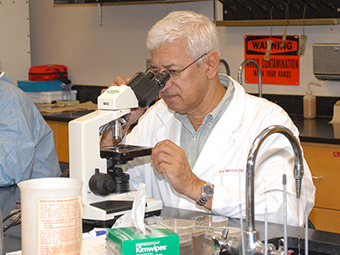 Abstract
Babesiosis is a hemolytic disease caused by protozoan parasites in the genus Babesia, transmitted through the saliva of infected ticks. The most economically important species, Babesia bigemina and B. bovis, infect cattle and are the etiological agents of bovine babesiosis. In the southern United States, eradication efforts directed against the tick vectors, Boophilus spp., began in the early 1900s. A quarantine zone in south Texas along the US/Mexico border was subsequently established following the eradication of the disease in the US. The permanent quarantine zone, spanning approximately 33% of the total shared border between Texas and Mexico, has helped limit the reintroduction of the vector and disease, and reduced the incidence of the tick vectors. Further, a strict regimen of broad monitoring and surveillance activities coupled with a rapid response and systematic application of containment procedures under the joint jurisdiction of the Texas Animal Health Commission and the United States Department of Agriculture has proven effective in enforcing the permanent quarantine zone and preventing the emergence of babesiosis into the United States. However, the presence of exotic game animals has helped facilitate the spread of the tick vectors and, when coupled with expanding populations of native deer that can host the tick vectors, the prevalence of Boophilus spp. ticks suggests an increased risk of the return of bovine babesiosis to the United States. This mini-review will examine the efforts in south Texas during 2018 to prevent the spread of cattle fever ticks.
Recommended Citation
Tidwell J, Vitek C J, Thomas D B, Pérez d L B, John M T. Status Update on the Threat of Babesiosis Returning to the United States. Dairy and Vet Sci J. 2018; 7(5): 555723. DOI: 10.19080/JDVS.2018.07.555723
Creative Commons License


This work is licensed under a Creative Commons Attribution 4.0 International License.
Publication Title
Journal of Dairy & Veterinary Science
DOI
10.19080/JDVS.2018.07.555723