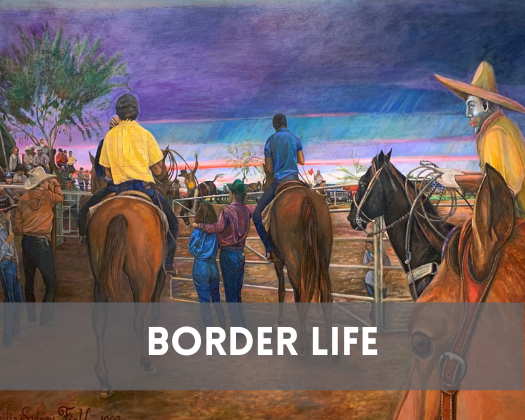 The Border Life Collection is a collection that originated with Dr. Chad Richardson, Professor Emeritus, Sociology and Anthropology, and former director of Border Life Project (1979-2010). During this period Dr. Richardson directed students to conduct interviews among 16 distinct social and cultural groups, including ethnographic interviews, anecdotal accounts, and survey research projects.
The Border Life Collection represents this original student research concerning life in the Lower Rio Grande Valley of Texas and Mexico. For the privacy and confidentiality of participants physical access to collection materials is restricted.
Online research requests are the easiest way for BSA patrons and scholars to initiate their research inquiries. Be sure to include specific details about your research interest.
Printing is not supported at the primary Gallery Thumbnail page. Please first navigate to a specific Image before printing.
Typed essay. Topics covered in essay are: racism, Anglo and Mexican relations.

Typed essay. Topics covered in this essay are: Mexican culture, religion, discrimination.

Typed essay. Topics covered in this essay are: religion, Mexican culture, Anglo culture, and racism.

Typed essay. Topics covered in essay: patterns in Mexican and Anglo culture in the Lower Rio Grande Valley.

Typed essay. Topics covered in this essay are: Bullying, Harassment, Jackson Elementary, McAllen, Education, Traditions, Mexican Culture, Anglo Culture, Quinceanera.

Typed essay. Topics covered in this essay are: Mexican culture, and religion.

Typed essay. Topics covered in this essay are: discrimination, and Mexican culture.

Typed essay. Topics covered in essay are: teenage pregnancy, discrimination, and culture.

Handwritten essay. Topics covered in this essay are: Mexican American culture, Anglo culture, interview, perceptions.

Typed essay. Topics covered in this essay are: Mexican culture, Anglo culture, and language.

William Flores and Kendra Lara

Naming conventions were minimally updated.

Processed 11 original digitized files.

Migrated from ContentDM to BePress on June 16, 2020