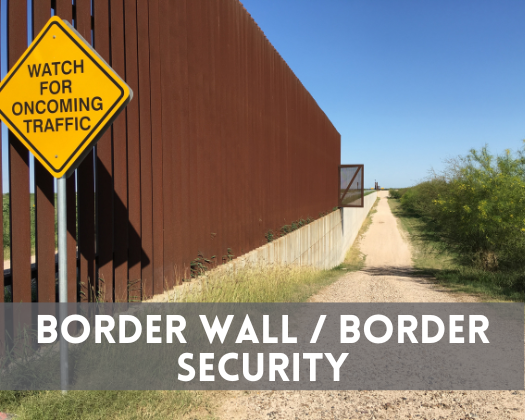 The Border Wall & Border Security Collection comprises materials relating to the border wall and the physical and cultural transformation of the border. These holdings include some of the most extensive local research on border security that focuses on the sociological and ecological ramifications of the border wall's construction along the South-Texas Rio Grande River. 
The collection includes over 1,800 high quality photos of various sections of the border wall, images of local protests, anti-wall pachangas, as well as border wall construction through backyards, wildlife parks, etc.  There are also 1,000+ documents relating to correspondence with local, state, and national elected officials on the border wall and border security.
Notable inclusions are photographs by Scott Nichol (Artist, Activist and Educator) on the construction and environmental impacts of the US-Mexico Border Wall. Data collected by Drs. Miguel Díaz-Barriga and Margaret E. Dorsey (Anthropologists). Photographs and testimonies from Lupe A. Flores, Doctoral Candidate, Anthropology, Rice University on the effects of border security in Hidalgo County.
The collection is open for research and born-digital collection materials are available online.
Browse the Border Wall / Border Security Collection:
Border Wall / Border Security Documents
Border Wall / Border Security Events
Border Wall / Border Security Hearings
Border Wall / Border Security Oral Histories