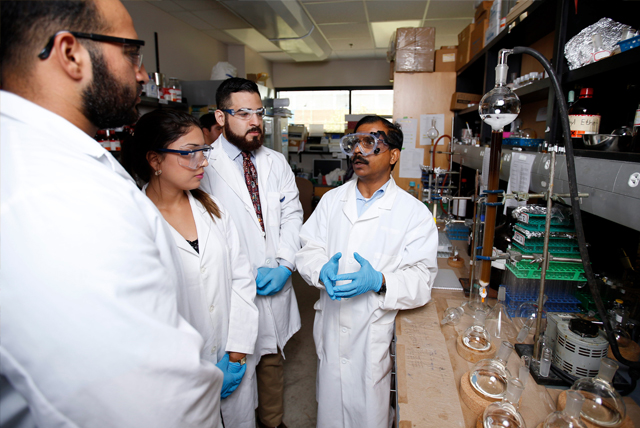 Publication Date
6-22-2012
Abstract
Background: Pyrroles are widely distributed in nature and important biologically active molecules. The reaction of amines with 2,5-dimethoxytetrahydrofuran is a promising pathway for the synthesis of pharmacologically active pyrroles under microwave irradiation.
Results: Microwave-induced polystyrenesulfonate-catalyzed synthesis of pyrroles from amines and 2,5- diemthoxytetrahydrofuran has been accomplished with excellent yield. This method produces pyrroles with polyaromatic amines.
Conclusion: The present procedure for the synthesis of N-aromatic substituted pyrroles will find useful application in the area of pharmacologically active molecules.
Recommended Citation
Cárdenas, R. A. V., Leal, B. O. Q., Reddy, A., Bandyopadhyay, D., & Banik, B. K. (2012). Microwave-assisted polystyrene sulfonate-catalyzed synthesis of novel pyrroles. Organic and Medicinal Chemistry Letters, 2(1), 24. https://doi.org/10.1186/2191-2858-2-24
Creative Commons License


This work is licensed under a Creative Commons Attribution 3.0 License.
Publication Title
Organic and Medicinal Chemistry Letters
DOI
10.1186/2191-2858-2-24