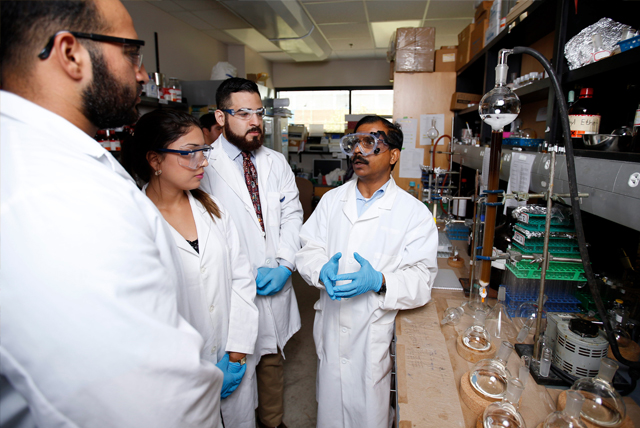 Abstract
Background: Curcumin and vanillin are the two useful compounds in food and medicine. Bismuth nitrate pentahydrate is an economical and ecofriendly reagent.
Method: Bismuth nitrate pentahydrate impregnated montmorillonite KSF clay and curcumin were subjected to microwave irradiation.
Results: Microwave-induced bismuth nitrate-promoted synthesis of vanillin from curcumin has been accomplished in good yield under solvent-free condition. Twenty-five different reaction conditions have been studied to optimize the process.
Conclusion: The present procedure for the synthesis of vanillin may find useful application in the area of industrial process development.
Recommended Citation
Bandyopadhyay, D., Banik, B.K. Bismuth nitrate-induced microwave-assisted expeditious synthesis of vanillin from curcumin. Org Med Chem Lett 2, 15 (2012). https://doi.org/10.1186/2191-2858-2-15
Creative Commons License


This work is licensed under a Creative Commons Attribution 3.0 License.
Publication Title
Organic and Medicinal Chemistry Letters
DOI
10.1186/2191-2858-2-15