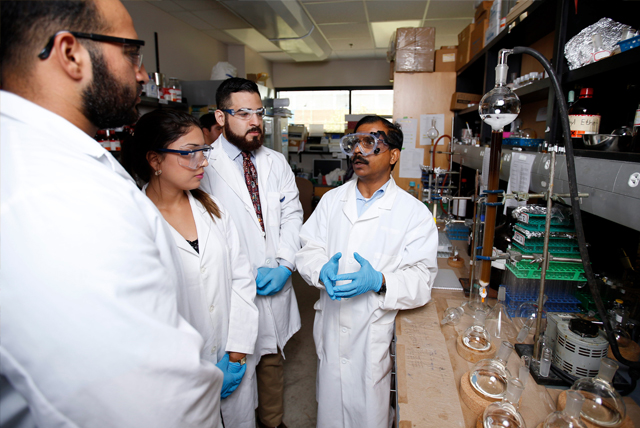 Publication Date
1-15-2014
Abstract
Here, we tested seven 2-acylated-1,4-hydronaphthoquinones for their cytotoxic effects on a panel of cancer lymphoma/leukemia cells and compared to a non-cancer origin cell line. Several naphthohydroquinones exhibited selective cytotoxic effects on lymphoma/leukemia cells with lowest activity on non-cancer cells. The mode of cell death induced by an acylated naphthohydroquinone, which has a long alkyl chain, was found to be via apoptosis. Furthermore, the naphthohydroquinone provoked mitochondria depolarization and activation of its downstream effector, caspase-3, thus implicating the intrinsic apoptotic pathway as its mechanism to exert cell death.
Recommended Citation
Pedroza, D. A., De Leon, F., Varela-Ramirez, A., Lema, C., Aguilera, R. J., & Mito, S. (2014). The cytotoxic effect of 2-acylated-1,4-naphthohydroquinones on leukemia/lymphoma cells. Bioorganic & medicinal chemistry, 22(2), 842–847. https://doi.org/10.1016/j.bmc.2013.12.007
Creative Commons License


This work is licensed under a Creative Commons Attribution-NonCommercial-No Derivative Works 4.0 International License.
Publication Title
Bioorganic and Medicinal Chemistry
DOI
10.1016/j.bmc.2013.12.007