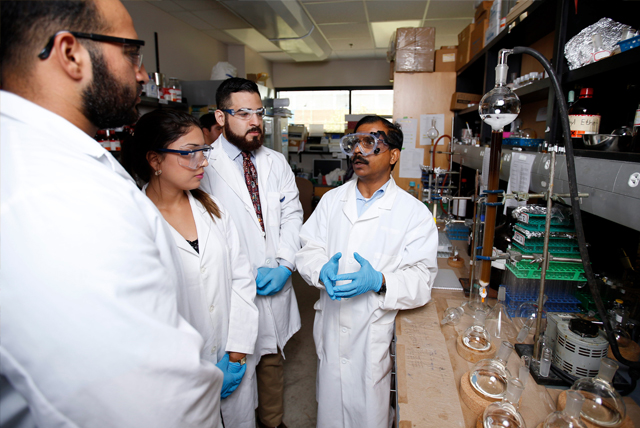 Publication Date
9-17-2021
Abstract
World Health Organization (WHO) identified twenty tropical disease categories as neglected tropical diseases (NTDs)1. Chagas' disease (also known as American trypanosomiasis) and leishmaniasis are two major classes of NTDs. The total number of mortality, morbidity, and disability attributed each year due to these two categories of diseases in magnitudes is much higher than the so-called elite diseases like cancer, diabetes, AIDS, cardiovascular and neurodegenerative diseases. Impoverished communities around the world are the major victim of NTDs. The development of new and novel drugs in the battle against Chagas' disease and leishmaniasis is highly anticipated. An easy and straightforward on-water green access to synthesize benzopyrazines is reported. This ultrasound-assisted procedure does not require any catalyst/support/additive/hazardous solvents and maintains a high atom economy. A series of eleven benzopyrazines has been synthesized, and most of the synthesized compounds possess the drug-likeness following Lipinski's "Rule of 5". Benzopyrazines 3 and 4 demonstrated moderate leishmanicidal activity against L. mexicana (M378) strain. The selective lead compound 1 showed good leishmanicidal, and trypanocidal activities (in vitro) against both L. mexicana (M378) and T. cruzi (NINOA) strains compared to the standard controls. The in vitro trypanocidal and leishmanicidal activities of the lead compound 1 have been validated by molecular docking studies against four biomolecular drug targets viz. T. cruzi histidyl-tRNA synthetase, T. cruzi trans-sialidase, leishmanial rRNA A-site, and leishmania major N-myristoyl transferase.
Recommended Citation
Rock J, Garcia D, Espino O, Shetu SA, Chan-Bacab MJ, Moo-Puc R, Patel NB, Rivera G and Bandyopadhyay D (2021) Benzopyrazine-Based Small Molecule Inhibitors As Trypanocidal and Leishmanicidal Agents: Green Synthesis, In Vitro, and In Silico Evaluations. Front. Chem. 9:725892. doi: 10.3389/fchem.2021.725892
Creative Commons License


This work is licensed under a Creative Commons Attribution 4.0 International License.
Publication Title
Frontiers in Chemistry
DOI
10.3389/fchem.2021.725892