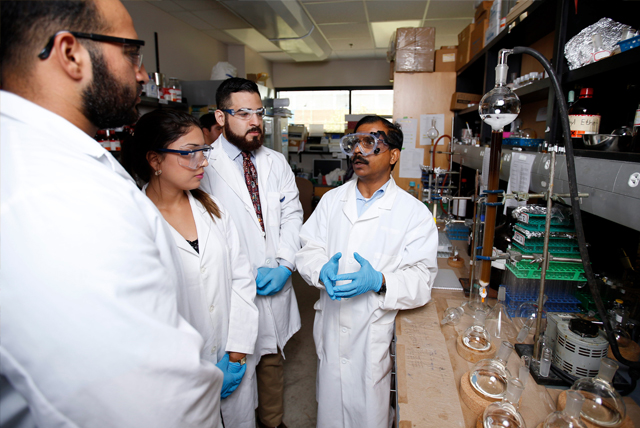 Publication Date
8-5-2021
Abstract
Persistent luminescent nanocrystals (PLNCs) in the sub-10 nm domain are considered to be the most fascinating inventions in lighting technology owing to their excellent performance in anti-counterfeiting, luminous paints, bioimaging, security applications, etc. Further improvement of persistent luminescence (PersL) intensity and lifetime is needed to achieve the desired success of PLNCs while keeping the uniform sub-10 nm size. In this work, the concept of molten salt confinement to thermally anneal as-synthesized ZnGa2O4:Cr3+ (ZGOC) colloidal NCs (CNCs) in a molten salt medium at 650 °C is introduced. This method led to significantly monodispersed and few agglomerated NCs with a much improved photoluminescence (PL) and PersL intensity without much growth in the size of the pristine CNCs. Other strategies such as i) thermal annealing, ii) overcoating, and iii) the core–shell strategy have also been tried to improve PL and PersL but did not improve them simultaneously. Moreover, directly annealing the CNCs in air without the assistance of molten salt could significantly improve both PL and PersL but led to particle heterogeneity and aggregation, which are highly unsuitable for in vivo imaging. We believe this work provides a novel strategy to design PLNCs with high PL intensity and long PersL duration without losing their nanostructural characteristics, water dispersibility and biocompatibility.
Recommended Citation
Srivastava, Bhupendra B., et al. "Molten‐Salt‐Assisted Annealing for Making Colloidal ZnGa2O4: Cr Nanocrystals with High Persistent Luminescence." Chemistry–A European Journal 27.44 (2021): 11398-11405. https://doi.org/10.1002/chem.202101234
Publication Title
Chem. Eur. J.
DOI
10.1002/chem.202101234