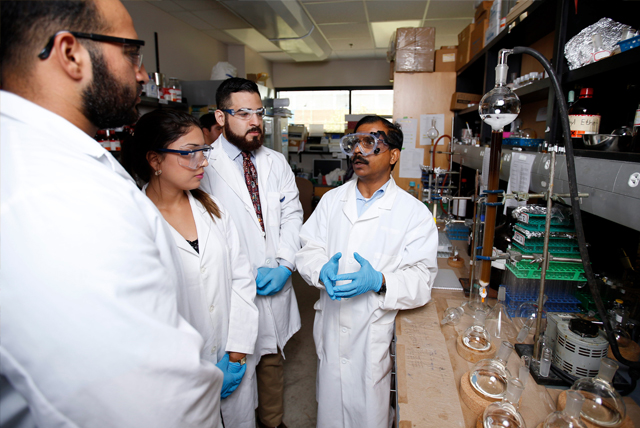 Title
Enantioselective palladium(0)-catalyzed Nazarov-type cyclization
Abstract
A Pd0-catalyzed asymmetric Nazarov-type cyclization is described. The optimized ligand for the reaction incorporates a weakly coordinating pyridine ring into a TADDOL-derived phosphoramidite (TADDOL=α,α,α,α-tetraaryl-1,3-dioxolane-4,5-dimethanol). The reaction leads to the formation of cyclopentenones as single diastereoisomers that incorporate two contiguous asymmetric centers, one tertiary and one an all-carbon-atom quaternary stereocenter, in high yield and optical purity. It is noteworthy that the reaction does not require that substrates should be activated by aryl substituents.
Recommended Citation
Kitamura, Kei, Naoyuki Shimada, Craig Stewart, Abdurrahman C. Atesin, Tülay A. Ateşin, and Marcus A. Tius. "Enantioselective Palladium (0)‐Catalyzed Nazarov‐Type Cyclization." Angewandte Chemie International Edition 54, no. 21 (2015): 6288-6291.
Publication Title
Angewandte Chemie International Edition
DOI
https://doi.org/10.1002/anie.201500881