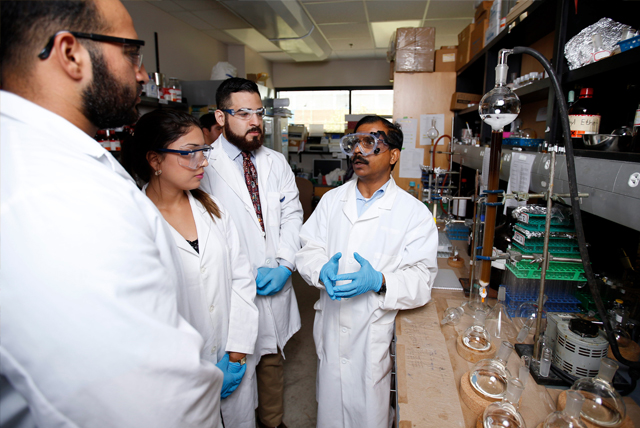 Publication Date
10-1-2012
Abstract
2-Azetidinones and pyrroles are two highly important classes of molecules in organic and medicinal chemistry. A green and practical method for the synthesis of 3-pyrrole-substituted 2-azetidinones using catalytic amounts of molecular iodine under microwave irradiation has been developed. Following this method, a series of 3-pyrrole-substituted 2-azetidinones have been synthesized with a variety of substituents at N-1 and at C-4. The procedure is equally effective for mono-as well as polyaromatic groups at the N-1 position of the 2-azetidinone ring. The C-4 substituent has no influence either on the yield or the rate of the reaction. Optically pure 3-pyrrole-substituted 2-azetidinones have also been synthesized following this methodology. No deprotection/ rearrangement has been identified in this process, even with highly acid sensitive group-containing substrates. A plausible mechanistic pathway has also been suggested based on the evidence obtained from 1H-NMR spectroscopy. The extreme rapidity with excellent reaction yields is believed to be the result of a synergistic effect of the Lewis acid catalyst (molecular iodine) and microwave irradiation.
Recommended Citation
Bandyopadhyay, D., Cruz, J., Yadav, R. N., & Banik, B. K. (2012). An Expeditious Iodine-Catalyzed Synthesis of 3-Pyrrole-substituted 2-Azetidinones. Molecules, 17(10), 11570–11584. https://doi.org/10.3390/molecules171011570
Creative Commons License


This work is licensed under a Creative Commons Attribution 4.0 International License.
Publication Title
Molecules
DOI
10.3390/molecules171011570