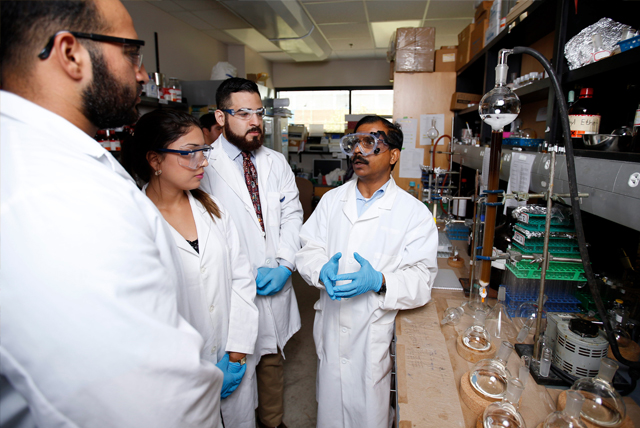 Publication Date
9-1-2017
Abstract
Glioblastoma is the most common and lethal malignant primary brain tumor for which the development of efficacious chemotherapeutic agents remains an urgent need. The anti-helminthic drug niclosamide, which has long been in use to treat tapeworm infections, has recently attracted renewed interest due to its apparent anticancer effects in a variety of in vitro and in vivo cancer models. However, the mechanism(s) of action remains to be elucidated. In the present study, we found that niclosamide induced cell toxicity in human glioblastoma cells corresponding with increased protein ubiquitination, ER stress and autophagy. In addition, niclosamide treatment led to down-regulation of Wnt/β-catenin, PI3K/AKT, MAPK/ERK, and STAT3 pro-survival signal transduction pathways to further reduce U-87 MG cell viability. Taken together, these results provide new insights into the glioblastoma suppressive capabilities of niclosamide, showing that niclosamide can target multiple major cell signaling pathways simultaneously to effectively promote cell death in U-87 MG cells. Niclosamide constitutes a new prospect for a therapeutic treatment against human glioblastoma.
Recommended Citation
Cheng B, Morales LD, Zhang Y, Mito S, Tsin A (2017) Niclosamide induces protein ubiquitination and inhibits multiple pro-survival signaling pathways in the human glioblastoma U87 MG cell line. PLoS ONE 12(9): e0184324. https://doi.org/10.1371/journal.pone.0184324
Creative Commons License


This work is licensed under a Creative Commons Attribution 4.0 International License.
Publication Title
PLoS ONE
DOI
10.1371/journal.pone.0184324