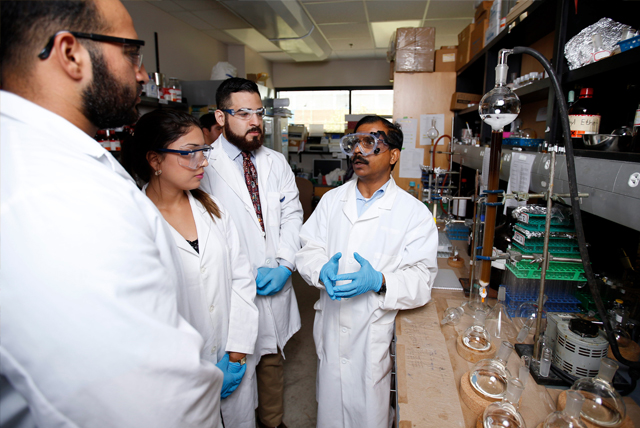 Publication Date
9-20-2014
Abstract
Background: Azaheterocycles are an important class of compounds because of their highly potent medicinal activities, and the imidazole subcategory is of special interest in regard to drug discovery research.
Findings: An expeditious synthetic protocol of 2-aryl-4-phenyl-1H-imidazoles has been accomplished by reacting phenylglyoxal monohydrate, ammonium acetate, and aldehyde under sonication. Following this green approach a series of 2-aryl-4-phenyl-1H-imidazoles has been synthesized using diversely substituted aldehydes.
Conclusions: A rapid and simple synthetic procedure to synthesize diversely substituted 2-aryl-4-phenyl-1H-imidazoles has been reported. Other salient features of this protocol include milder conditions, atom-economy, easy extraction, and minimum wastes. The present procedure may find application in the synthesis of biologically active molecules.
Recommended Citation
Bandyopadhyay, D., Smith, L. C., Garcia, D. R., Yadav, R. N., & Banik, B. K. (2014). An expeditious green route toward 2-aryl-4-phenyl-1H-imidazoles. Organic and Medicinal Chemistry Letters, 4(1), 9. https://doi.org/10.1186/s13588-014-0009-7
Creative Commons License


This work is licensed under a Creative Commons Attribution 3.0 License.
Publication Title
Organic and Medicinal Chemistry Letters
DOI
10.1186/s13588-014-0009-7