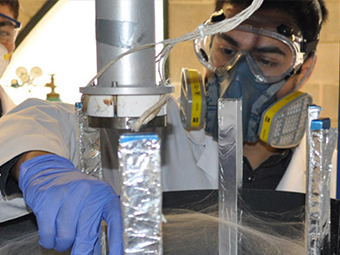 Publication Date
2-8-2022
Abstract
Electrocorticography (ECoG) is a conventional, invasive technique for recording brain signals from the cortical surface using an array of electrodes. In this study, we developed a highly flexible 22-channel ECoG microelectrode array on a thin Parylene film using novel fabrication techniques. Narrow (<40 >µm) and thin (<500 >nm) microelectrode patterns were first printed on PDMS, then the patterns were transferred onto Parylene films via vapor deposition and peeling. A custom-designed, 3D-printed connector was built and assembled with the Parylene-based flexible ECoG microelectrode array without soldering. The impedance of the assembled ECoG electrode array was measured in vitro by electrochemical impedance spectroscopy, and the result was consistent. In addition, we conducted in vivo studies by implanting the flexible ECoG sensor in a rat and successfully recording brain signals.
Recommended Citation
Kim, Y.; Alimperti, S.; Choi, P.; Noh, M. An Inkjet Printed Flexible Electrocorticography (ECoG) Microelectrode Array on a Thin Parylene-C Film. Sensors 2022, 22, 1277. https://doi.org/10.3390/s22031277
Creative Commons License


This work is licensed under a Creative Commons Attribution 4.0 International License.
Publication Title
Sensors