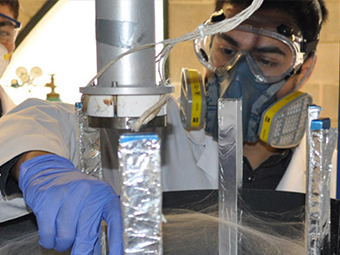 Publication Date
4-17-2018
Abstract
A new study with rat sciatic nerve model for peripheral nerve interfacing is presented using a fully-implanted inductively-powered recording and stimulation system in a wirelessly-powered standard homecage that allows animal subjects move freely within the homecage. The Wireless Implantable Neural Recording and Stimulation (WINeRS) system offers 32-channel peripheral nerve recording and 4-channel current-controlled stimulation capabilities in a 3 × 1.5 × 0.5 cm3 package. A bi-directional data link is established by on-off keying pulse-position modulation (OOK-PPM) in near field for narrow-band downlink and 433 MHz OOK for wideband uplink. An external wideband receiver is designed by adopting a commercial software defined radio (SDR) for a robust wideband data acquisition on a PC. The WINeRS-8 prototypes in two forms of battery-powered headstage and wirelessly-powered implant are validated in vivo, and compared with a commercial system. In the animal study, evoked compound action potentials were recorded to verify the stimulation and recording capabilities of the WINeRS-8 system with 32-ch penetrating and 4-ch cuff electrodes on the sciatic nerve of awake freely-behaving rats. Compared to the conventional battery-powered system, WINeRS can be used in closed-loop recording and stimulation experiments over extended periods without adding the burden of carrying batteries on the animal subject or interrupting the experiment.
Recommended Citation
Lee, B., Koripalli, M.K., Jia, Y. et al. An Implantable Peripheral Nerve Recording and Stimulation System for Experiments on Freely Moving Animal Subjects. Sci Rep 8, 6115 (2018). https://doi.org/10.1038/s41598-018-24465-1
Creative Commons License


This work is licensed under a Creative Commons Attribution 4.0 International License.
Publication Title
Scientific Reports
DOI
10.1038/s41598-018-24465-1