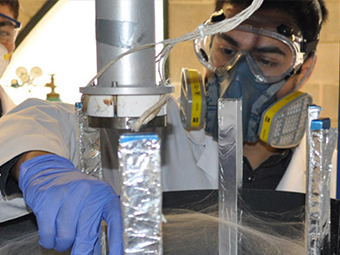 Document Type
Conference Proceeding
Abstract
Packet buffers in a smart network interface card are managed in a way to reduce any packet losses from high-speed burst incoming data. Currently, two types of packet buffer management techniques are used. They are static buffer management and dynamic buffer management techniques. Dynamic buffer management techniques are more efficient than the static ones because they change the threshold value according to network traffic conditions. However, current dynamic techniques cannot adjust threshold instantaneously. Thus, packet losses with dynamic techniques are still high. We, therefore, propose a history-based buffer management scheme to address the issue. Our experiment results show that the history-based scheme reduces packet loss by 11% to 15.9% as compared to other conventional dynamic algorithms. Keywords -packet buffer; network interface card; layer 3 and 4 protocols; VHDL; static and dynamic buffer management.
Recommended Citation
S. Batra, Y. Chu and Y. Bai, "Packet Buffer Management for a High-Speed Network Interface Card," 2007 16th International Conference on Computer Communications and Networks, Honolulu, HI, 2007, pp. 191-196, doi: 10.1109/ICCCN.2007.4317818.
Publication Title
2007 16th International Conference on Computer Communications and Networks
DOI
10.1109/ICCCN.2007.4317818