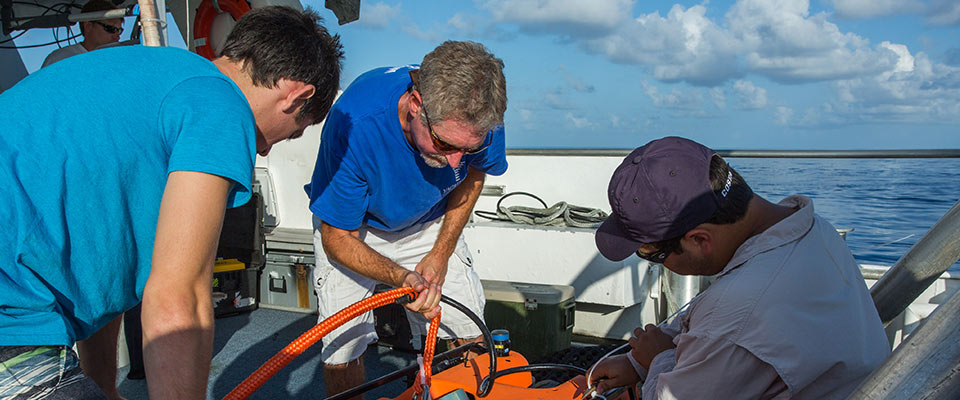 Publication Date
5-14-2020
Abstract
A new species of Chromis (Teleostei: Pomacentridae) is described from three specimens collected at 90 m depth in a mesophotic coral ecosystem at Rapa Nui, Chile. Chromis mamatapara, new species, can be distinguished from its congeners by the following combination of characters: dorsal-fin rays XIV,13–14; pectoral-fin rays 18–19, third from top of fin longest; tubed lateral-line scales 18; total gill rakers on first arch 30–32; vertebrae 11þ15; and by coloration of living specimens, especially the presence of a single, pronounced, white spot, roughly the same diameter as the orbit, located where the posterior base of the dorsal fin intersects the caudal peduncle. The most similar DNA barcode (mitochondrial COI gene), among those available, is Chromis tingting from Japan (3.5% uncorrected divergence); however, C. mamatapara, new species, also superficially resembles other species for which sequences are unavailable for comparisons, including C. okamurai from Japan and C. struhsakeri from Hawaii. Due to the high geographic isolation and consequently high endemism in the Rapa Nui region, we believe that C. mamatapara, new species, is endemic to mesophotic ecosystems of Rapa Nui, Isla Salas y Gomez, and nearby seamounts, a discovery that contributes to the high endemism of the region and thus the need for conservation efforts.
Recommended Citation
Shepherd, Bart, Hudson T. Pinheiro, Tyler A. Y. Phelps, Erin E. Easton, Alejandro Pérez-Matus, and Luiz A. Rocha. 2020. "A New Species of Chromis (Teleostei: Pomacentridae) from Mesophotic Coral Ecosystems of Rapa Nui (Easter Island) and Salas y Gómez, Chile." Copeia 108 (2): 326–32. https://doi.org/10.1643/CI-19-294.