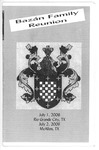 Identifier
BD0010-20181103-BritoMariaTeresa-03-05,11-19
Description
Black and white photographs. Members of the Bazan family include: Jose Bazan's great grandsons and Abelardo and Rosa Bazan's grandsons, Jose, Pablo and Nicasio Bazan, Epigmenia Trevino Bazan, Santos Bazan, Josefa Bazan, Prajedis Alaniz Bazan, Pilar Bazan Jr., Stella Bazan, Andrea A., Maribel Bazan, Berta Bazan, America Bazan, Pete Bazan family, Melchora Bazan, Elvira and Miguel Bazan, Victor Bazan Silva with great nephews and nieces, Eulogio Bazan, Prajedis Bazan, Jose and Feliciana Garza Bazan, Melchora and Albino Bazan, Abelardo and Rosa Bazan's nine great grandchildren, Eulogio Bazan, Guadalupe Montalvo Bazan, Luisa B. Cavazos, Petra Bazan, Josefa Bazan, Miguel Bazan (WWII veteran), Elvira M. Bazan, Melchora Bazan, Barney Saldana, Elida Bazan, Albino Bazan, Miguel Bazan, Elvira Bazan, Simon Bazan, Elboria Bazan, Liboria Bazan, Edward Bazan Jr., Eduardo Bazan, and Abelardo Bazan.
Physical Description
.PDF, 12 Pages, 41 Photographs
Recommended Citation
UTRGV History Harvest (BD-0010). UTRGV Digital Library, The University of Texas – Rio Grande Valley.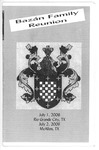 COinS