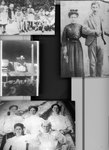 Title
Four b&w photographs of the Bazan family
Identifier
BD0010-20181103-MolisMoodyChristine-01,03
Description
Four black and white photographs of the Bazan family. Top left photograph; from left to right: Teresita Villarreal Bazan Flores, Epigmania Trevino Bazan, Antonio Bazan Longoria, Minerva Longoria Bazan, Maria Cristina Bazan Rodriguez, Laure Bazan Rodriguez Lopez Hinojosa, Elida Bazan Saldana, and Josefa Bazan Rocha.
The three other photographs are without captions. Top right photograph; a photograph of a young woman and her father; Middle left; an elderly lady sitting on a rocking chair on a porch; bottom left; four sisters posing with either a mother or grandmother.
Physical Description
4 Photographs
Recommended Citation
UTRGV History Harvest (BD-0010). UTRGV Digital Library, The University of Texas – Rio Grande Valley.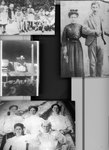 COinS