Maps of Fort Brown (1854-1869)
Mr. Purdy was assigned as a clerk with the U.S. Army Quartermaster at Fort Brown. The army began operating a military post there in 1846, and during the US Civil War, both Confederate and Union soldiers occupied the fort at different times. However, the post was not constructed as a permanent structure until 1867-1869.
View of Brownsville, Texas, 1863

This engraving, which appeared in Harper's Weekly, depicts a view of Brownsville during the Civil War.
Views of Brownsville, Texas, 1865-1866
The images below are included to provide a depiction of the historical setting and period from which Mr. & Mrs. Purdy write their letters.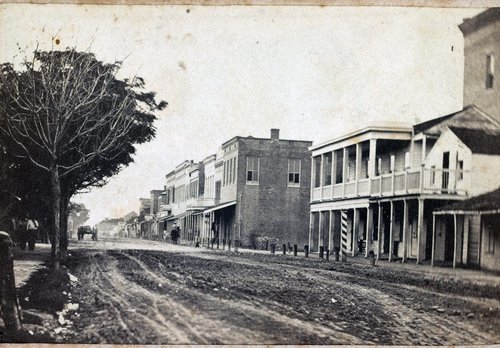 Black and white photograph of buildings lining Elizabeth Street in Brownsville, Texas, c. 1865. Photograph by Louis de Planque, who operated galleries in Brownsville, Texas, and Matamoros, Mexico. He is considered one of the most important Civil War Texas photographers, according to the Handbook of Texas Online.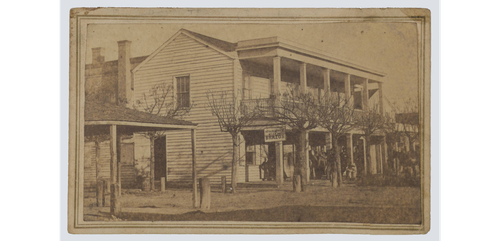 Photograph of the Miller Hotel located in Brownsville, TX on the corner of 13th & Elizabeth, which Mrs. Purdy describes in her first letter. Image source: Miller Hotel, Brownsville, Texas, Lawrence T. Jones III Texas photography collection, Series 2: Cartes de Visite, Ag2008.0005. DeGolyer Library, Southern Methodist University.