International Boundary & Water Commission
The International Boundary & Water Commission was established by the Convention of March 1, 1889. The original organization, the International Boundary Commission, was tasked with applying the boundary and water treaties between the United States and Mexico.
In 1944, another treaty between the U.S. and Mexico "authorized the two countries to construct operate and maintain dams on the main channel of the Rio Grande." The 1944 Treaty also changed the name to International Boundary & Water Commission (IBWC) and created two independent sections (U.S. and Mexico) led by Engineer Commissioners. The United States Section (USIBWC) is a federal government agency, whose policy is guided by the U.S. Department of State. The Mexican Section is supervised by the Mexican Ministry of Foreign Affairs. The USIBWC is headquartered in El Paso, Texas, and the Mexico Section is headquarters is in Ciudad Juarez, Chihuahua, Mexico.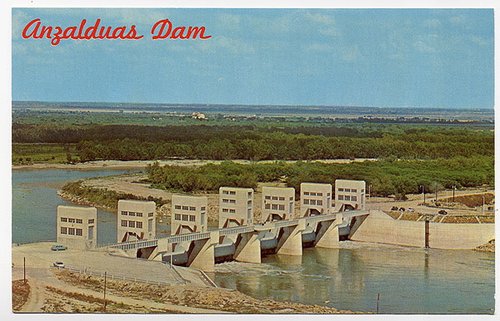 Lower Rio Grande Flood Control Project (LRGFCP)
The field office for the IBWC is the Lower Rio Grande Flood Control Project (LRGFCP) located in Mercedes, TX. The LRGFCP covers 180 miles of the Rio Grande River from Penitas to the Gulf of Mexico. The office plays a critical role in protecting people living in the lower Rio Grande Valley of Texas from flooding.
The LRGFCP operates and maintains two dam (Anzalduas and Retamal), nearly 600 irrigation and drainage structures, 10 floodgates, and 270 miles of flood control levees. They also monitor water flows, remove obstructions to the river floodways, and coordinate with landowners, general public, government entities, among others.
Anzalduas Dam is a diversion dam located approximately 11 river miles upstream between Hidalgo, Texas and Reynosa, Tamaulipas. The construction of the dam was an binational undertaking that between 1956 and 1960. It is designed to divert the U.S. share of floodwaters to its interior floodway and enables the diversion of waters to Mexico's main irrigation canal.
Banco Maps (1912)
Bancos are the land surrounded by bends in the river that become cutoff often the meander of the river and the rapid erosion of the river channel. The Banco Convention of 1905 between the United States and Mexico resulted in the exchange of 247 bancos between the two nations from 1910 to 1976. And, most of them were located in the Lower Rio Grande Valley.