Identifier
1_FBQML-089.jpg
Description
Building no. 89.
The Art Annex is now used as an office and storage space. One set of Post Plans designate it as a Telephone Exchange and a Bachelor N.C.O. Quarters. Floor plans have a telephone switchboard, sleeping quarters, and signal corps detachment room crossed out, leaving a lavatory and N.C.O. quarters on the first level. A signal corps workshop and lighting switchboard were shown on the second floor loft. The difference of the second set of Post Plans place the two upper rooms as storage and switchboard rooms.
Walls are 15 inches wide. Both plans do not give a date when it was built. It was likely built in 1904, the same time as building 88. Its double doors were once a single door, with a five-step stoop at the entrance. HABS photographs taken in 1977 show a metal exterior smoke pipe once rose from the exterior sill when it housed a kiln and it was once connected to Building 88 by a flat-roofed wood frame shed. The east entrance was also brick sealed. A door was once located near the southeast corner with another directly across to Building No. 88 when the two buildings were joined by the wooden structure. This building was torn down and entrances sealed to attain the historical authenticity of the two buildings. Openings at the foot of the building have also been brick filled.
In Ballots, Bullets and Barking Dogs, historian Bruce Aiken recalled that the building was used by the Sergeant of the Guard. Whiskey bottles, over one hundred of them, were discovered beneath wooden floors while being renovated for use by the college. Good old-fashioned drunkenness back then was known as the delirium tremens. This was one the place to party on the Army post!
One can see the Morgue before it was joined to the Linen Storage building and the Post Hospital (Gorgas Hall) in the background.
Physical Description
.JPG, 1 Page, 26 x 35 cm
Preview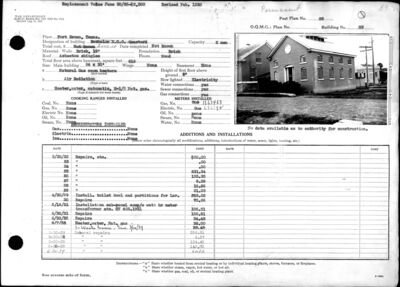 Recommended Citation
Fort Brown Quartermaster's Ledger, Texas Southmost College, UTRGV Digital Library, The University of Texas – Rio Grande Valley. Accessed via https://scholarworks.utrgv.edu/ftbrown/
Some files may download without file extensions. Please add '.jpg' to the end of the filename to open the file.
Keywords
Texas--Fort Brown, Texas--Brownsville, 1930-1939, Military camps, Housing, Records (Documents), Architectural drawings
COinS