Identifier
1_FBQML-084.jpg
Description
Building no. 84. Constructed in 1867.
Now known as Champion Hall.
This building was named for A. A. Champion, well-known historian and TSC Board of Trustee from 1968-74. Mr. Champion helped government officials locate the exact location of the Palo Alto Battle Site.
The building formerly served as offices for the UTB/TSC Vice President of External Affairs and Dean of Graduate Studies. William C. Gorgas most likely worked in this building.
Fort Brown Post Records designate it as a Medical Supply & Detention Barracks in 1936 and Medical Offices, Lab & Isolation Wards in 1942. It was once the physics lab for the college. Later it was used by the Financial Aid office.
Physical Description
.JPG, 1 Page, 26 x 35 cm
Preview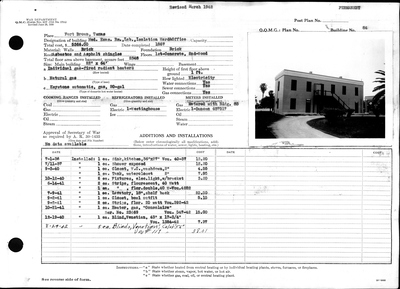 Recommended Citation
Fort Brown Quartermaster's Ledger, Texas Southmost College, UTRGV Digital Library, The University of Texas – Rio Grande Valley. Accessed via https://scholarworks.utrgv.edu/ftbrown/
Some files may download without file extensions. Please add '.jpg' to the end of the filename to open the file.
Keywords
Texas--Fort Brown, Texas--Brownsville, 1860-1869, 1930-1939, 1940-1949, Military camps, Military hospitals, Medical offices, Records (Documents), Architectural drawings
COinS