Identifier
1_FBQML-084.jpg
Description
Building no. 84. Constructed in 1867.
This building was named for A. A. Champion, well-known historian and TSC Board of Trustee from 1968-74. Mr. Champion helped government officials locate the exact location of the Palo Alto Battle Site.
The building presently serves as offices for the Vice President of External Affairs and Dean of Graduate Studies. It was built around 1870. William C. Gorgas most likely worked in this building.
Fort Brown Post Records designate it as a Medical Supply & Detention Barracks in 1936 and Medical Offices, Lab & Isolation Wards in 1942. It was once the physics lab for the college. Later it was used by the Financial Aid office.
If anyone has any other historical information on Bldg. 84 they would like to share with the Hunter Room archives, please visit our homepage.
Physical Description
.JPG, 1 Page, 26 x 35 cm
Preview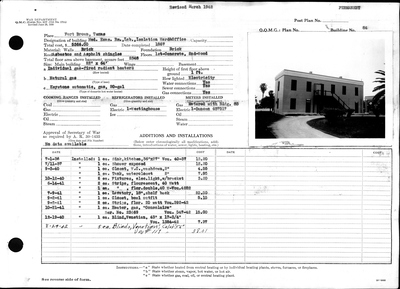 Recommended Citation
Fort Brown Quartermaster's Ledger, Texas Southmost College, UTRGV Digital Library, The University of Texas – Rio Grande Valley. Accessed via https://scholarworks.utrgv.edu/ftbrown/
Some files may download without file extensions. Please add '.jpg' to the end of the filename to open the file.
Keywords
Texas--Fort Brown, Texas--Brownsville, 1860-1869, 1930-1939, 1940-1949, Military camps, Military hospitals, Medical offices, Records (Documents), Architectural drawings
COinS