Identifier
1_FBQML-051.jpg
Description
Building no. 51. Constructed in 1934-06-30. Post plan no. 51.
Originally built in 1919, at a time appropriations for building resulted in many permanent officer's quarters being built between the Fort Brown Resaca and the Rio Grande. Building 51 and others like it were destroyed by the 1933 hurricane. Reconstruction of the buildings one the same spot they had stood was completed on June 30, 1934 and "made hurricane proof". Built as a (married) Officer's Quarters with family, it is a small wood frame/stucco structure that had three bedrooms and baths. The entire front and half of one side had a screened porch. The side porch area was designated as a "sleeping porch." It is the last of several officer residences like it that were removed throughout the years since BISD and TSC began dividing the former Fort Brown reservation.
Maps show there were eighteen single-story buildings facing Gorgas Drive and Taylor Street that stretched from May Street to Porter Drive. Some of these single story homes were added in 1919 with additional ones built along Porter Drive between Horseshoe Lake and the Rio Grande. Wainwright's seven field officer's quarters which faced the former Parade Grounds from Taylor Avenue "were altered from multiple to single family dwellings." Twenty-five buildings and a twelve-car garage filled this block. Elizabeth Street would later cut through this residential block and be bridged to the island.
It was also once used by housekeeping services and campus police and neighbored by three similar buildings used as dormitories for Scorpion athletes until the poor condition of these buildings made it necessary to house athletes in the Fort Brown Hotel [now the "Village at Fort Brown" student housing] in 1993. These houses, and others like them -- which were used by the college at one time or other as faculty residences, a (UT-PAB) library support offices and educational resource lab, a music annex building, and criminal justice faculty offices -- are now all gone. (Information written in 2004)
Physical Description
.JPG, 1 Page, 26 x 35 cm
Preview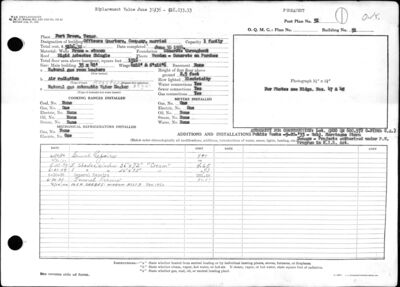 Recommended Citation
Fort Brown Quartermaster's Ledger, Texas Southmost College, UTRGV Digital Library, The University of Texas – Rio Grande Valley. Accessed via https://scholarworks.utrgv.edu/ftbrown/
Some files may download without file extensions. Please add '.jpg' to the end of the filename to open the file.
Keywords
Texas--Fort Brown, Texas--Brownsville, 1930-1939, 1930-1939, Military camps, Houses, Officers' quarters, Housing, Records (Documents), Architectural drawings
COinS