Identifier
1_FBQML-044.jpg
Description
Building no. 44. Constructed in 1922-12-24. Post plan no. 44.
All that remains of seven houses on Officer's Row is the Commandant's Quarters (Building No. 44) and another relocated on 810 Van Buren Street (Building No. 40). These seven officer's homes had received the least damage from the 1933 hurricane. By October 1952 several houses were scheduled to be torn down and tenants were notified to vacate by February 1953. There were forty-four homes rented to veterans and their families. These homes were located near the parade grounds and to the south along Porter Drive. An unknown number of homes were sold and removed instead of being torn down. The six large field officer's quarters sold for about $2000 and smaller N.C.O. quarters for $1500.
The first commander to live in the building was Alexander McDee McCook and the last was Abner Doubleday, who later developed the game of baseball. Guest dignitaries included aviator Charles Lindberg, general "John 'Black Jack' Pershing and John L. Clem, who gained fame as a boy during the Civil War when he was known as the 'Drummer Boy of Shiloh. "The first TSC president to live in the home was C.J. Garland and the last was Arnulfo L. Oliveira.
In the 1940's the building had an elongated living room with a library and bedroom on the first floor. An open hallway from the entrance led to the stairs and to the rear wing of the house with a large pantry, laundry room, kitchen, bath and large dining room. A maid's room was also part of the building. The maid's room, dining room and double story screened porch have been removed. The second floor had two baths and four bedrooms.
Vacant since the early 1990's, the goal to restore it has been an ongoing effort. Speculation and doubt as to the age of the building has arisen in the past and alterations to the building since it was first built can be difficult to map. However, evidence to prove it is not an original Wainwright building has not surfaced. (Information written in 2004)
Physical Description
.JPG, 1 Page, 26 x 35 cm
Preview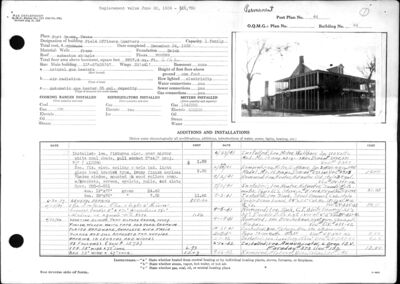 Recommended Citation
Fort Brown Quartermaster's Ledger, Texas Southmost College, UTRGV Digital Library, The University of Texas – Rio Grande Valley. Accessed via https://scholarworks.utrgv.edu/ftbrown/
Some files may download without file extensions. Please add '.jpg' to the end of the filename to open the file.
Keywords
Texas--Fort Brown, Texas--Brownsville, 1920-1929, 1940-1949, Houses, Military camps, Housing, Records (Documents), Architectural drawings
COinS