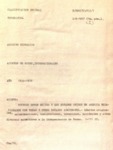 Identifier
BD0025-L-E-1057
Disciplines
Diplomatic History | History | Latin American History | Military History | Political History | United States History
Description
Boundary Treaty between Mexico and the United States of America. Signed in Mexico on January 12, 1828, by Sebastian Camacho, Jose Ignacio Esteva and J.R. Poinsett. Additional article of 1828 signed in Mexico on April 5, 1831, by Lucas Alaman, Rafael Antonio Mangino and Butler. Both ratified by the President of the United States of America in Washington on April 5, 1832 (Section 1). p. 1-3
Appointment of William Johnson as Army Artillery Captain in Texas (Section 2). p. 4 3) Appointment of John Austin as Captain of the first regiment of dragoons in the Texas Guard (Section 3). p. 5.
Appointment of Alexander Williams as First Lieutenant in the Texas Navy and Captain of the schooner "Patriot" (Section 4). p. 6-14.
Invasion of the Bay of the Holy Spirit in the province of Texas by the American General James Long and a group of soldiers in an attempt to free the territory. Notes on his capture by Mexican authorities and concessions given. See attached list of military provisions (Section 5). p. 15-103.
The Mexican Embassy in the United States of America, sent to the Secretary of State and the Foreign Office, printed reports and press clippings on the proposal of Thomas H. Benton to the Senate of the United States of America, about the trade between Missouri and the internal provinces of Mexico (Section 6). p. 104-167.
Editorial by the Attakapas Gazette, concerning the difficulty of American citizens to colonize Texas, given the challenging geographical and climatic conditions, as well as the commercial and political instability of the Mexican government. Attached clipping from the Attakapas Gazette (Section 7). p. 168-173.
The Ministry of War and Navy and the Consulate of Mexico in New Orleans informs the Ministry of State and Foreign Affairs about the proposals made by Spanish residents of New Orleans to the Governor of Cuba to send and organize an invasion force with four or five hundred men to Texas to attack and plunder the Indians. The Governor of Coahuila and Texas is made aware of the plan and is alerted if there is any incident (Section 8). p. 174-186
Same description as above: (press clippings). p. 165-279
Physical Description
.PDF, 630 Pages, 272 MB
Recommended Citation
La Guerra de Texas y La Guerra Mexico - Estados Unidos, UTRGV Digital Library, The University of Texas – Rio Grande Valley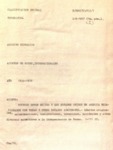 COinS