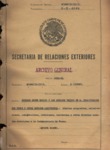 Identifier
BD0025-L-E-1059
Disciplines
Diplomatic History | History | Latin American History | Military History | Political History | United States History
Description
"Sucesos entre Mexico y los Estados Unidos de America, relacionados con Texas y otros estados limitrofes. Limites originales, colonizaciones, inmigraciones, invasiones, incidentes y otros diversos asuntos anteriores a la Independecia de Texas."
Idiomas cubiertos: español, y inglés.
-
Events between Mexico and the United States of America, related to Texas and other bordering states. Original boundaries, colonizations, immigration, invasions, incidents, and various other issues prior to Texas Independence.
Reports: Meeting in Columbia by the Texas settlers to designate a security commission for Texas; Meeting between the Mexican minister and the U.S. Secretary of State. (clippings); Original boundaries, colonization, invasion, and various matters concerning Texas before it became independent; reports on the Mexican ships "Mail of Mexico" and "Enrietta" seized by the U.S. warship "San Felipe" for alleged smuggling. 1-60.
Reports from the Mexican Embassy in the United States of America on the capture of the schooner "Mail of Mexico" by the American "San Felipe", for alleged smuggling. p. 61-170.
Languages covered: Spanish, and English.
Physical Description
.PDF, 266 Pages, 58 MB
Recommended Citation
La Guerra de Texas y La Guerra Mexico - Estados Unidos, UTRGV Digital Library, The University of Texas – Rio Grande Valley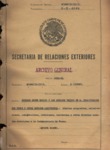 COinS