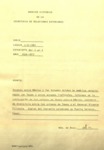 Identifier
BD0025-L-E-1061
Disciplines
Diplomatic History | History | Latin American History | Military History | Political History | United States History
Description
The Embassy in France sends reports and press clippings about Texas and the Mexican government's refusal to recognize their independence; the borders of the U.S. and Texas with Mexico, the Florida War of the United States against the Sioux Indian, the position of General Gaines in Texas; the seizure of the American ship "Pocket" in Pensacola that was bringing food to Mexican troops in Texas; circulated dispatches between the governors of Mexico about the victories obtained by the Mexican military in Texas, the Alamo, Bexar, Coprano, Goliad and Victoria. p. 1-212.
Newsletter dated on June 27, 1836 to the governors of the departments of Mexico regarding the armistice agreement signed by President General Antonio López de Santa Anna who was taken prisoner by the settlers of Texas. The governors of Mexico reprimanding the conduct of General Vicente Filisola for abandoning his military posts in Texas. p. 213-233.
The Ministry of Foreign Affairs, asked the Ministry of War and Navy for copies of the secret armistice agreement between the President of Mexico: General Antonio Lopez de Santa Anna and the president of the Republic of Texas: David G. Burnet, signed in Puerto Velasco, Texas on May 14, 1836, ratified by General Vicente Filisola as communicated by the internal political leadership in Baja California. Seizure of Texan ship "The Invincible" on Mexican coast. p. 234-245.
Physical Description
.PDF, 310 Pages, 229 MB
Recommended Citation
La Guerra de Texas y La Guerra Mexico - Estados Unidos, UTRGV Digital Library, The University of Texas – Rio Grande Valley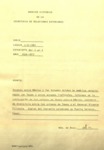 COinS