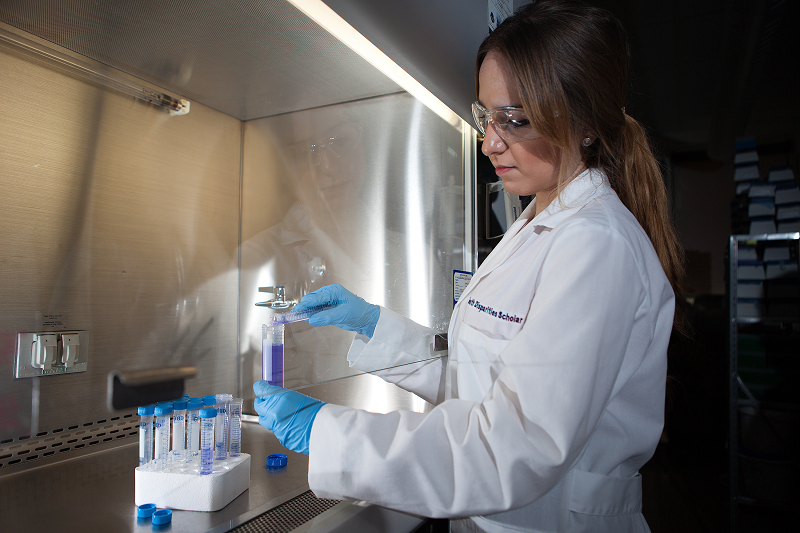 Publication Date
4-29-2022
Abstract
The magnitude and duration of hypoxia after ocular hypertension (OHT) has been a matter of debate due to the lack of tools to accurately report hypoxia. In this study, we established a topography of hypoxia in the visual pathway by inducing OHT in mice that express a fusion protein comprised of the oxygen-dependent degradation (ODD) domain of HIF-1a and a tamoxifen-inducible Cre recombinase (CreERT2) driven by a ubiquitous CAG promoter. After tamoxifen administration, tdTomato expression would be driven in cells that contain stabilized HIF-1α. Intraocular pressure (IOP) and visual evoked potential (VEP) were measured after OHT at 3, 14, and 28 days (d) to evaluate hypoxia induction. Immunolabeling of hypoxic cell types in the retina and optic nerve (ON) was performed, as well as retinal ganglion cell (RGC) and axon number quantification at each time point (6 h, 3 d, 14 d, 28 d). IOP elevation and VEP decrease were detected 3 d after OHT, which preceded RGC soma and axon loss at 14 and 28 d after OHT. Hypoxia was detected primarily in Müller glia in the retina, and microglia and astrocytes in the ON and optic nerve head (ONH). Hypoxia-induced factor (HIF-a) regulates the expression of glucose transporters 1 and 3 (GLUT1, 3) to support neuronal metabolic demand. Significant increases in GLUT1 and 3 proteins were observed in the retina and ON after OHT. Interestingly, neurons and endothelial cells within the superior colliculus in the brain also experienced hypoxia after OHT as determined by tdTomato expression. The highest intensity labeling for hypoxia was detected in the ONH. Initiation of OHT resulted in significant hypoxia that did not immediately resolve, with low-level hypoxia apparent out to 14 and 28 d, suggesting that continued hypoxia contributes to glaucoma progression. Restricted hypoxia in retinal neurons after OHT suggests a hypoxia management role for glia.
Recommended Citation
Jassim, A.H.; Inman, D.M. Ocular Hypertension Results in Hypoxia within Glia and Neurons throughout the Visual Projection. Antioxidants 2022, 11, 888. https://doi.org/10.3390/ antiox11050888
Creative Commons License


This work is licensed under a Creative Commons Attribution 4.0 International License.
Publication Title
Antioxidants
DOI
10.3390/ antiox11050888