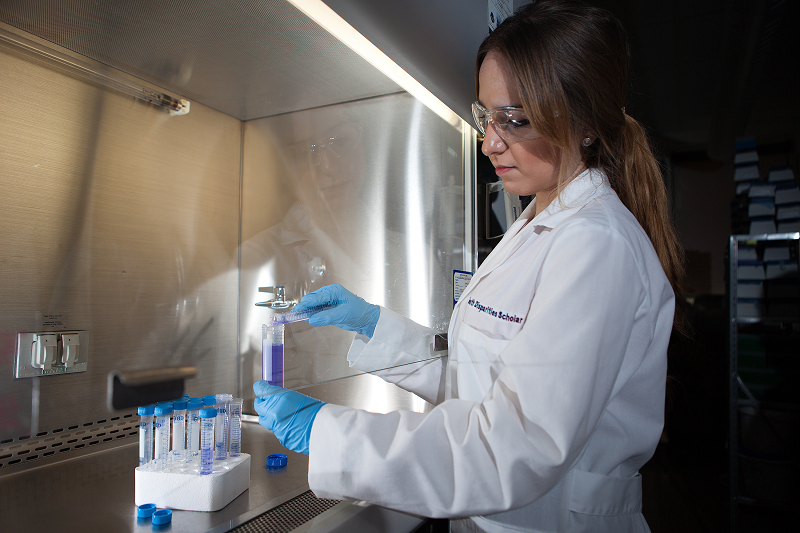 Publication Date
6-1-2022
Abstract
Background: Combination antiretroviral therapy has significantly advanced HIV-1 infection treatment. However, HIV-1 remains persistent in the brain; the inaccessibility of the blood–brain barrier allows for persistent HIV-1 infections and neuroinflammation. Nanotechnology-based drug carriers such as nanodiscoidal bicelles can provide a solution to combat this challenge.
Methods: This study investigated the safety and extended release of a combination antiretroviral therapy drug (tenofovir)-loaded nanodiscs for HIV-1 treatment in the brain both in vitro and in vivo.
Result: The nanodiscs entrapped the drug in their interior hydrophobic core and released the payload at the desired location and in a controlled release pattern. The study also included a comparative pharmacokinetic analysis of nanodisc formulations in in vitro and in vivo models.
Conclusion: The study provides potential applications of nanodiscs for HIV-1 therapy development.
Recommended Citation
Garcia, C. R., Rad, A. T., Saeedinejad, F., Manojkumar, A., Roy, D., Rodrigo, H., Chew, S. A., Rahman, Z., Nieh, M. P., & Roy, U. (2022). Effect of drug-to-lipid ratio on nanodisc-based tenofovir drug delivery to the brain for HIV-1 infection. Nanomedicine (London, England), 10.2217/nnm-2022-0043. Advance online publication. https://doi.org/10.2217/nnm-2022-0043
Creative Commons License


This work is licensed under a Creative Commons Attribution-NonCommercial-No Derivative Works 4.0 International License.
Publication Title
Nanomedicine
DOI
10.2217/nnm-2022-0043