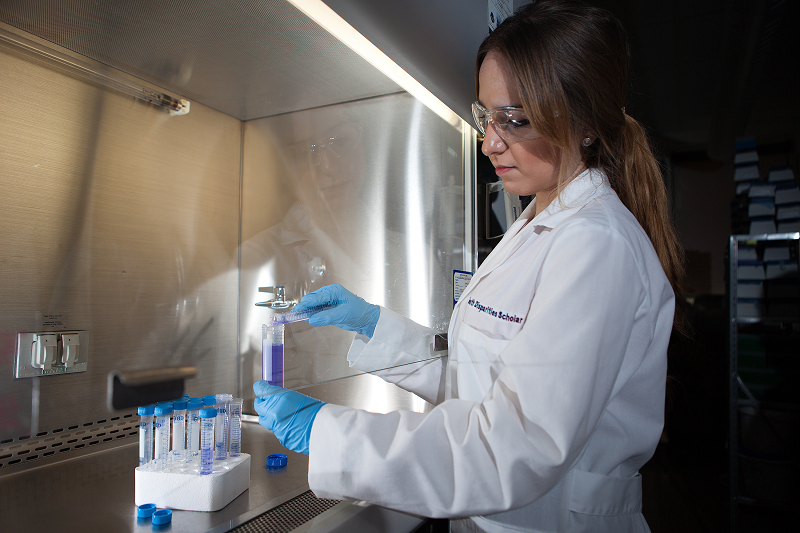 Title
Application of iron oxide nanoparticles to control the release of minocycline for the treatment of glioblastoma
Abstract
Background:
The utilization of iron oxide nanoparticles (Fe3O4 NPs) to control minocycline release rates from poly(lactic-co-glycolic acid) scaffolds fabricated from an easy/economical technique is presented.
Results & methodology:
A larger change in temperature and amount of minocycline released was observed for scaffolds with higher amounts of Fe3O4 NPs, demonstrating that nanoparticle concentration can control heat generation and minocycline release. Temperatures near a polymer's glass transition temperature can result in the polymer's chain becoming more mobile and thus increasing drug diffusion out of the scaffold. Elevated temperature and minocycline released from the scaffold can work synergistically to enhance glioblastoma cell death. Conclusion: This study suggests that Fe3O4 NPs are promising materials for controlling minocycline release from polymeric scaffolds by magnetic hyperthermia for the treatment of glioblastoma.
Recommended Citation
Arriaga, M. A., Enriquez, D. M., Salinas, A. D., Garcia, R., Jr, Trevino De Leo, C., Lopez, S. A., Martirosyan, K. S., & Chew, S. A. (2021). Application of iron oxide nanoparticles to control the release of minocycline for the treatment of glioblastoma. Future medicinal chemistry, 13(21), 1833–1843. https://doi.org/10.4155/fmc-2021-0098
Publication Title
Future medicinal chemistry
DOI
10.4155/fmc-2021-0098