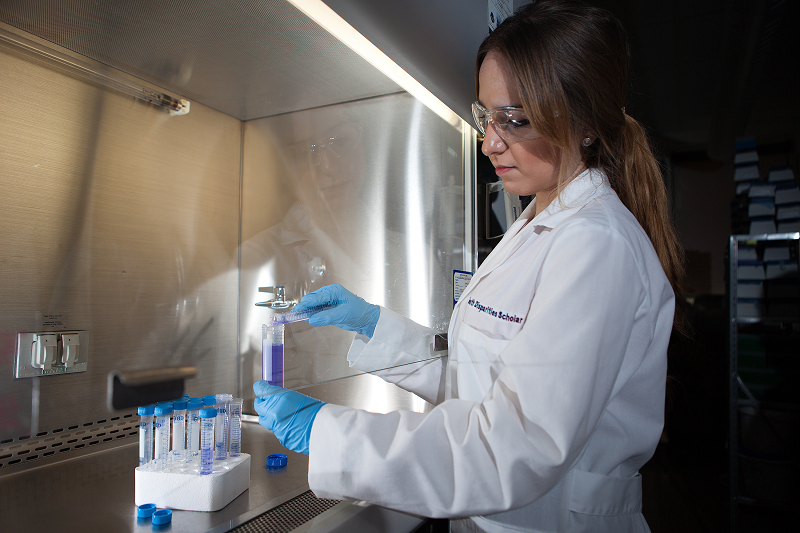 Publication Date
1-14-2020
Abstract
Endometriosis is a chronic inflammatory disorder in which endometrial tissue is found outside the uterine cavity. Previous reports suggest that there is a dysregulation of the hypothalamic pituitary adrenal axis during the progression of endometriosis. Our previous report showed that a short-term treatment with antalarmin, a corticotrophin releasing hormone receptor type 1 (CRHR1) antagonist decreases the number and size of endometriotic vesicles in the auto-transplantation rat model of endometriosis. Our current goal was to examine the mRNA expression of intra-adrenal receptors to better understand the mechanisms of the hypothalamic pituitary adrenal (HPA) axis involvement in endometriosis. We used two groups of female rats. The first received sham surgery or endometriosis surgery before collecting the adrenals after 7 days of the disease progression. The second group of animals received endometriosis surgery and a treatment of either vehicle or antalarmin (20 mg/kg, i. p.) during the first 7 days after endometriosis induction and then the disease was allowed to progress until day 60. Rats with sham surgery served as controls. Results showed that the mRNA expression of the mineralocorticoid (MRC2) receptor was lower in the rats after 7 days of endometriosis surgery and in rats with endometriosis that received antalarmin. In addition, the CRHR1 was significantly elevated in animals that received antalarmin and this was counteracted by a non-significant elevation in CRHR2 mRNA. The glucocorticoid receptor mRNA within the adrenals was not affected by endometriosis or antalarmin treatment. This report is one of the first to explore intra-adrenal mRNA for receptors involved in the HPA axis signaling as well as in the sympatho-adrenal signaling, calling for additional research towards understanding the role of the adrenal glands in chronic inflammatory diseases such as endometriosis.
Recommended Citation
Torres-Reverón A, Rana M, Gorabi V, Rivera-Lopez LL, Appleyard CB (2020) Short treatment with antalarmin alters adrenal gland receptors in the rat model of endometriosis. PLoS ONE 15(1): e0227456. https://doi.org/10.1371/journal.pone.0227456
Creative Commons License


This work is licensed under a Creative Commons Attribution 4.0 International License.
Publication Title
PLoS ONE
DOI
10.1371/ journal.pone.0227456