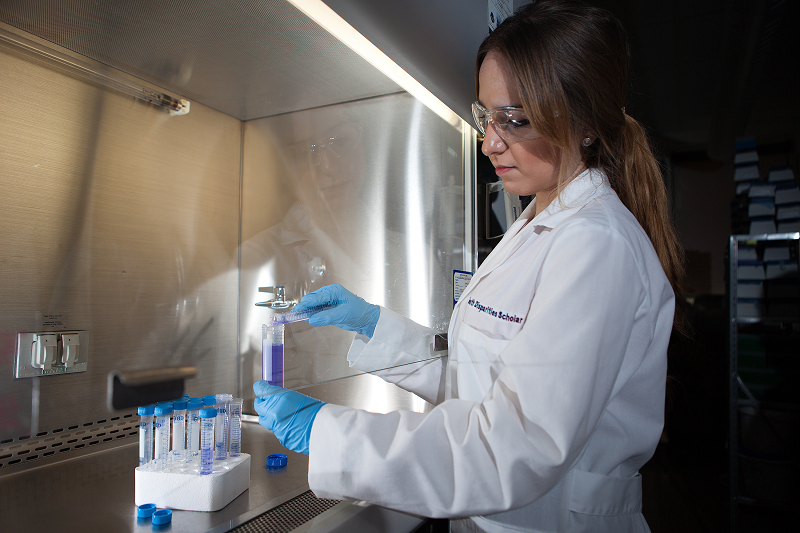 Publication Date
4-29-2013
Abstract
The medial septal region (medial septum and diagonal band of Broca, MS/DB) controls hippocampal excitability and synaptic plasticity. MS/DB cholinergic neurons degenerate early in Alzheimer's disease (AD). The presence of MS/DB glutamatergic neurons that project to the hippocampus and are vulnerable to Aβ suggests that excitotoxicity plays a role in AD septal degeneration and hippocampal dysfunction. To demonstrate the presence of excitotoxicity in Aβ-induced septal damage, we compared rats injected with Aβ1-40 into the MS/DB with animals treated with memantine prior, during and after Aβ1-40 injections. Controls were injected with phosphate buffered saline (PBS). MS/DB cholinergic, glutamatergic and GABAergic neurons were immunochemically identified. The number of MS/DB neurons was estimated using stereology. Our results show that memantine blocks Aβ1-40-induced septal damage and suggest that excitotoxicity plays a role in basal forebrain neurodegeneration.
Recommended Citation
Colom, L. V., Castaneda, M. T., Aleman, D., & Touhami, A. (2013). Memantine protects cholinergic and glutamatergic septal neurons from Aβ1-40-induced toxicity. Neuroscience letters, 541, 54–57. https://doi.org/10.1016/j.neulet.2013.02.010
Creative Commons License


This work is licensed under a Creative Commons Attribution-NonCommercial-No Derivative Works 4.0 International License.
Publication Title
Neuroscience letters
DOI
10.1016/j.neulet.2013.02.010