Title
Journal - Recorded news items and historical facts as they happened down through the past years, some happy, some sad, some good, some bad
Description
Recorded news items and historical facts book compiled by John R. Peavey can be found here.
Sketches, photographs, and timeline kept by the author of local and national news between January 16, 1906 through December 7, 1941. Major topics covered are: local government, railroad, vegetable crops, prominent citizens, new cities, U.S. Army, assassinations, land buyers, sugar mills, weather, politicians, hospitals, airplane, Mexican Revolution, Mexican Border War, refugees, prohibition, WWI, Spanish flu, and transportation.
"At the beginning of this story I said that the facts and material for this story were taken from a diary that I kept through the years beginning in 1906. I now find that to describe everything that has happened and give a detailed account of what took place I will never finish this story, so I shall bring the story to a close in the following few pages so lets call them "tid-bits" or shorts of what took place during some of those early days in the land "South of the TexMex"."
Physical Description
.PDF, 41 Pages, 40 MB
Preview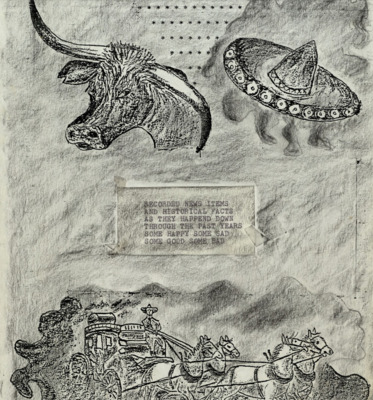 Recommended Citation
John R. Peavey Scrapbook, UTRGV Digital Library, The University of Texas – Rio Grande Valley. Accessed via https://scholarworks.utrgv.edu/johnrpeavey