Identifier
CopiadoMapaSMcLStaples1828MapaNigraSanMartin
Description
Map contains detailed view of towns, major cities, rivers, mountain ranges, in the states of Nuevo Leon, Coahuila, and neighboring regions.
"Copiado del Mapa de S. Mc. L. Staples, en 1828 de Mapa de Nigra de San Martin en cuanto a las distancias respectivas, y de la Carta general de la República Mexicana de Garcia Cubas, y según los informes fidedignos de personas que conocen el terreno, especialmente la parte mas al norte a la derecha del Rio Bravo."
"Indica este mapa los principales puntos de pasaje de los indios en el Rio Grande para venir desde los Estados Unidos a hostilizar a México. Señala con exactitud las montanas, los valles que forman, y sus gargantas, para demostrar la conveniencia de la ocupación de determinados puntos por destacamentos militares, que dificultarían las excursiones."
Physical Description
.TIF, 1 Page, Color
Preview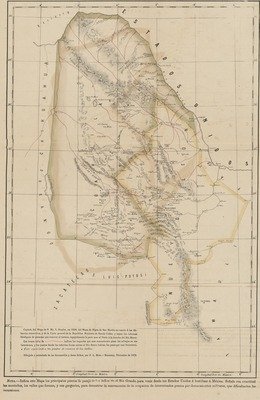 Recommended Citation
Maps, UTRGV Digital Library, The University of Texas – Rio Grande Valley. Accessed via https://scholarworks.utrgv.edu/maps
Keywords
Maps, Mexico--Nuevo León (State), Mexico--Coahuila (State), 1870-1879, Indians of North American, Native Americans
COinS