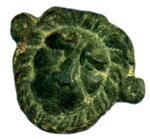 Title
French Army Napoleonic French officer belt buckle lion emblem "Salado lion head"
Identifier
BD0021-NapoleonicLionEmblemSalado-a
Files
Disciplines
Latin American History | Military History | United States History
Description
A small sculptured plate featuring a Lion's head with protuding ears . The reverse side is flat except for an ovoid at the center of disk with two fasteners.
French Army Napoleonic French Officer Belt Buckle Lion "Salado little Lion's Head Buckle" Ca. 1830's-1840's Plate # . m ht.x mm w. .g 1-in.disc dia. 1-3/4in. ht.x 2-10/16in. w. 1.2oz. Dug at the ruins of the Rancho de Salado, San Luis Potosi, Mexico Collection: Rod Bates Port Isabel, Texas Cast and filed brass, whole.
Physical Description
.JPG, 2 Files, 62.3 KB
Recommended Citation
Manuel Hinojosa Mexican War Collection, UTRGV Digital Library, The University of Texas – Rio Grande Valley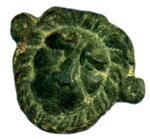 COinS