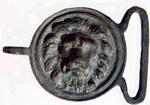 Title
French Army waist belt plate "Salado Lion head buckle"
Identifier
BD0021-SaladoLion
Disciplines
Latin American History | Military History | United States History
Description
A round disc plate featuring a raised lion's head with two raised concentric lines as borders. The reverse side is flat except for an ovoid at the center of the disc. The belt loop is to the right with the applied s-link connector on the left.
Waist Belt Plate "Salado Lion's Head Buckle" Ca. 1830's-1840's Plate # 43m disc.dia. 45m ht.x 67mm w. 33.8g 1-11/16in.disc dia. 1-3/4in. ht.x 2-10/16in. w. 1.2oz. Dug at the ruins of the Rancho de Salado, San Luis Potosi, Mexico Collection: Port Isabel Historical Museum Port Isabel, Texas Cast and filed brass, whole.
File 1: Back of the buckle. Erosion can be seen on the buckle.
File 2: Front of the buckle. The Lion's face slightly eroded.
Physical Description
.JPG, 2 Photographs, 70 KB
Recommended Citation
Manuel Hinojosa Mexican War Collection, UTRGV Digital Library, The University of Texas – Rio Grande Valley. Accessed via https://scholarworks.utrgv.edu/mhinojosa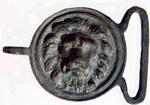 COinS