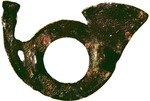 Title
Mexican Army Light Infantry Rifle Company "Ojuelo Horn" emblem
Disciplines
Latin American History | Military History
Description
Mexican Infantry horn emblem with the mouthpiece to left and moon shape at the right side; two fastening prongs with holes on the reverse side, this object identifies a rifleman company of a regular infantry battalion. Another example was found at the Hacienda de Encarnacion de Guzman.
"Ojuelo Horn" Company's Emblem Hunting horn "Compania de Cazadores, Baón Infanteria Permanente" ca. 1835-1836 Plate # 63mm wide x 50mm ht. Wt.945 0z. 26.7 grams Dug at the ruins of Hacienda de Ojuelo, Coahuila, Mexico Collection: Port Isabel Historical Museum Port Isabel, Texas
File 1: Eroded emblem. Discoloration can be seen around the emblem. Mouthpiece facing left.
File 2: Eroded emblem. The emblem is brass in color, mouthpiece facing left.
Physical Description
.TIF, 2 files, 953 KB
Recommended Citation
Manuel Hinojosa Mexican War Collection, UTRGV Digital Library, The University of Texas – Rio Grande Valley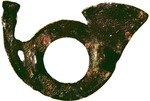 COinS