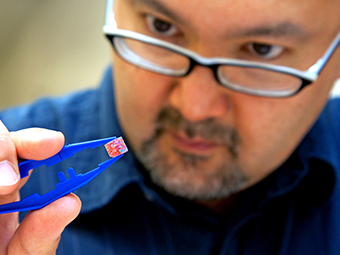 Abstract
The feasibility of screen-printing process of hard ferrite magnetic nanoparticles produced by carbon combustion synthesis of oxides (CCSO) is investigated. In CCSO, the exothermic oxidation of carbon generates a smolder thermal reaction wave that propagates through the solid reactant mixture converting it to the desired oxides. The complete conversion of hexaferrites occurs using reactant mixtures containing 11 wt. % of carbon. The BaFe12O19 and SrFe12O19 hexaferrites had hard magnetic properties with coercivity of 3 and 4.5 kOe, respectively. It was shown that the synthesized nanoparticles could be used to fabricate permanent magnet structures by consolidating them using screen-printing techniques.
Recommended Citation
Martirosyan, Karen S., et al. "Screen-Printing of Ferrite Magnetic Nanoparticles Produced by Carbon Combustion Synthesis of Oxides." Journal of Applied Physics, vol. 111, no. 9, American Institute of Physics, May 2012, p. 094311, doi:10.1063/1.4711097.
Publication Title
Journal of Applied Physics