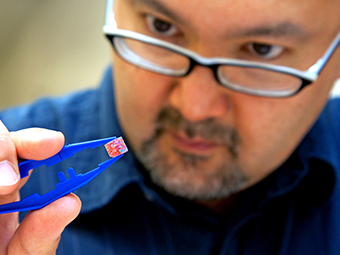 Abstract
Integration of nanoscience and nanotechnology curricula into the College of Science, Mathematics, and Technology (CSMT) at the University of Texas at Brownsville (UTB) is reported. The rationale for the established multidisciplinary Nanoscience Concentration Certificate Program (NCCP) is to: (i) develop nanotechnology-relevant courses within a comprehensive Science, Engineering and Technology curriculum, and, to offer students an opportunity to graduate with a certificate in nanoscience and nanotechnology; (ii) to contribute to students' success in achieving student outcomes across all college's majors, and, improve the breath, depth and quality of science, technology, engineering and mathematics (STEM) graduates' education; (iii) through NCCP, recruit certificate- and associate-degree seeking students into four year programs in engineering and physical sciences. A long-term goal is to develop an ABET accredited bachelor program in nanoscience. This program is expected to reach out to a large group of undergraduate students in a coordinated manner, enhance students' knowledge and skills, as well as facilitate efforts of individual faculty members in STEM education. The UTB NCCP is supported by the NSF NUE program, under which we are developing and offering seven upper-level interdisciplinary undergraduate courses. These courses and program are assessed and evaluated.
Recommended Citation
Martirosyan, Karen S., et al. "An Integrated Multidisciplinary Nanoscience Concentration Certificate Program for STEM Education." Journal of Nano Education, vol. 5, no. 2, Dec. 2013, pp. 154–63, doi:10.1166/jne.2013.1043.
Publication Title
Journal of Nano Education
DOI
10.1166/jne.2013.1043