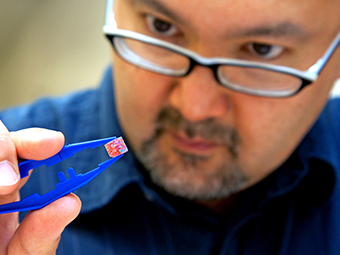 Abstract
It is established that cell entry of low density lipoprotein particles (LLPs) containing Apo B100 and Apo E is mediated by receptors and GAGs. Receptor ligand motifs, XBBBXXBX, XBBXBX, and ΨBΨXB, and mono- and bipartite NLS sequences are abundant in Apo E and Apo B100 as well as in envelope and capsid proteins of Dengue viruses 1-4 (DENV1-4). Synthetic, fluorescence-labeled peptides of sequences in DENV2 envelope protein, and DENV3 capsid that include these motifs were used to conduct a qualitative assessment of cell binding and entry capacity using HeLa cells. DENV2 envelope peptide, Dsp2EP, 0564Gly-Gly0595, was shown to bind and remain at the cell surface. In contrast, DENV3 capsid protein peptide, Dsp3CP, 0002Asn-Gln0028, readily enters HeLa cells and accumulates at discrete loci in the nucleus. FITC-labeled dengue synthetic peptides colocalize with Low Density Lipoprotein-CM-DiI and Apo E-CM-DiI to a degree that suggests that Dengue viruses may utilize cell entry pathways used by LLPs.
Recommended Citation
Guevara, Juan Jr.; Romo, Jamie Jr.; McWhorter, Troy; and Guevara, Natalia Valentinova, "Analogs of LDL Receptor Ligand Motifs in Dengue Envelope and Capsid Proteins as Potential Codes for Cell Entry" (2015). Physics and Astronomy Faculty Publications and Presentations. 514.
https://scholarworks.utrgv.edu/pa_fac/514
Publication Title
J Viruses.