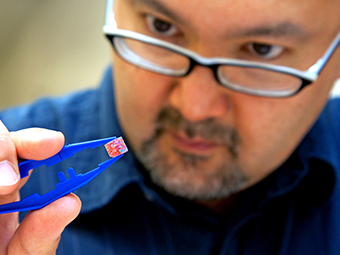 Title
Self-healing of high elasticity block copolymers
Publication Date
11-17-2008
Abstract
A new route for adding self-healing properties to soluble polymers is presented briefly. Self-healing block copolymers (polystyrene-block-polybutadiene block-polystyrene from Sigma-Aldrich) were obtained by dissolving the polymer in a solvent that neither dissolves the microbubbles nor deactivate the Grubbs catalyst. The self-healing block copolymer has been obtained by mixing the polymer, the solvent, the microbubbles filled with monomer (dicyclopentadiene), and the Grubbs' catalyst followed by the evaporation of the solvent. The structure of self-healed high elasticity block copolymer has been investigated by optical and Scanning Electron Microscopy. Raman spectroscopy and mechanical data suggested that the block copolymer exhibits self-healing features.
Recommended Citation
Chipara, M.D., Chipara, M., Shansky, E. and Zaleski, J.M. (2009), Self-healing of high elasticity block copolymers. Polym. Adv. Technol., 20: 427-431. https://doi.org/10.1002/pat.1296
Publication Title
Polym. Adv. Technol.