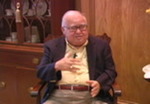 Title
Eligio (Kika) de la Garza - Part 04
Description
0:00 Introduction.
0:20 Kika works on Johnson's campaign.
2:25 Kika's run for congress.
3:00 What were your general thoughts in the Vietnam War?
7:04 Involvement in Vietnam.
10:31 Kika's loyalty to President Johnson.
11:33 The way Kika was helping on the war.
15:35 Kika changes his views about the involvement in the Vietnam War.
16:45 Background of the people that Kika met at the war.
24:22 Vietnamese movement.
24:26 Kika's position.
26:11 Political media disaster.
27:13 Do you remember what your thoughts were when you realized that Johnson was not going to run for reelection?
27:33 Did Johnson's decision affect you?
28:43 Good Spanish speaking friends at the White House.
31:29 Did you support the program of 1968 for this area?
32:43 Did you support President Kennedy's movement?
32:57 Kika talks about his bilingual background.
34:27 Kika talks about his education background.
35:00 Mexican-Americans in Politics
35:15 Elected Hispanics
35:44 Martin Luther King assassinated and the Civil rights movement.
43:11 Violence at the convention in Chicago.
43:35 Changing the system peacefully.
46:37 What were the main concerns about switching from a democratic president to a republican president?
47:00 Did you centralize services?
47:23 City councils.
48:00 Do you think federalism is a good model of government?
50:16 Kika's campaign.
51:00 Agriculture: feeding the people
54:00 Did you have more work because of the centralization?
58:00 Is there anything else you want to add?
1:01:00 Influence of Texas at the federal level.
Recommended Citation
Rio Grande Valley Oral Histories Collection; Eligio (Kika) de la Garza - Part 04, 2009/08/26. ELIBR-0027. University Library, Special Collections and University Archives, University of Texas Rio Grande Valley, Edinburg, TX. Accessed via https://scholarworks.utrgv.edu/rgvoralhistories/542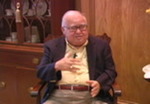 COinS