Description
Color photograph. Nycticorax nyctixorax. The Black-crowned Night-Heron mostly nest in coastal colonies, some nest on land. Identified by their black crown and back with the remainder of the body white or gray, red eyes, and short yellow legs.
Physical Description
.JPG, 1 Photograph
Preview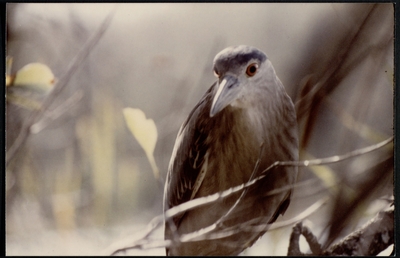 Recommended Citation
Santa Ana National Wildlife Refuge, UTRGV Digital Library, The University of Texas – Rio Grande Valley. Accessed via https://scholarworks.utrgv.edu/santaana
Some files may download without file extensions. Please add '.jpg' to the end of the filename to open the file.
Keywords
Santa Ana National Wildlife Refuge (Tex.), Texas--Santa Ana National Wildlife Refuge, Texas--Lower Rio Grande Valley, 1940-1949, 1950-1959, 1960-1969, 1970-1979, 1980-1989, 1990-1999, 2000-2009, Wildlife refuges -- Texas -- Management, Texas--Alamo
COinS