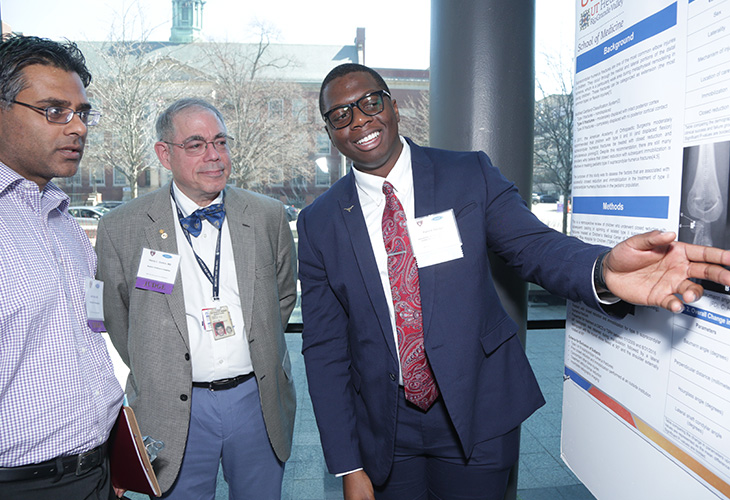 Abstract
Introduction
Timely evaluation of a pregnant woman experiencing trauma has significant implications. To optimize trauma care for obstetrical patients, our Level I Trauma Center at Doctors Hospital at Renaissance initiated a Standard Operating Procedure (SOP) which puts an OBGYN at bedside within 15 minutes of arrival. This involves calling an 'OB Trauma Alert' and arranging expedited travel to the center. We performed a quality improvement initiative to evaluate operational compliance.
Methods
The IRB deemed this project non-regulated research. Therefore, we reviewed obstetrical trauma admissions and subsequent deliveries of pregnant women >20 weeks presenting within 2 years before SOP implementation through 11 months after. We compared compliance of having an OBGYN at the bedside within 15 minutes of arrival, with target of 90% for the final post-SOP period.
Results
There were 173 obstetrical trauma admissions for the 2 years prior to SOP implementation, 53 during the first 6 months, and 25 during the last 5 months. Prior to SOP implementation, 1.2% of admissions had documentation of an OBGYN at bedside within 15 minutes of arrival and 6.4% had documentation of external fetal monitoring in place within 15 minutes of arrival, compared to 71.7% and 77.4% during 6-month peri-SOP, and 96% and 40% during the post-SOP period, respectively.
Conclusion/Implications
Optimal OB trauma care requires strategic coordination of getting both trauma and OBGYN providers at bedside in a timely manner. Operational compliance increased 94.8% the first 11 months after initiating this SOP at our facility. Although this practice change underscores the practicality of implementing a standardized procedure for getting an OBGYN at bedside within 15 minutes, additional focus should be on specific evaluation and management criteria.
Recommended Citation
Ridley, Johanna Renee; Huff, Madeline Elaine; and Thompson, Abaigeal, "Improving OB Trauma Care using a Standardized Protocol" (2021). MEDI 9331 Scholarly Activities Clinical Years. 53.
https://scholarworks.utrgv.edu/som9331/53
Academic Level
medical student
Mentor/PI Department
Obstetrics and Gynecology
Available for download on Monday, November 18, 2024
Included in
COinS