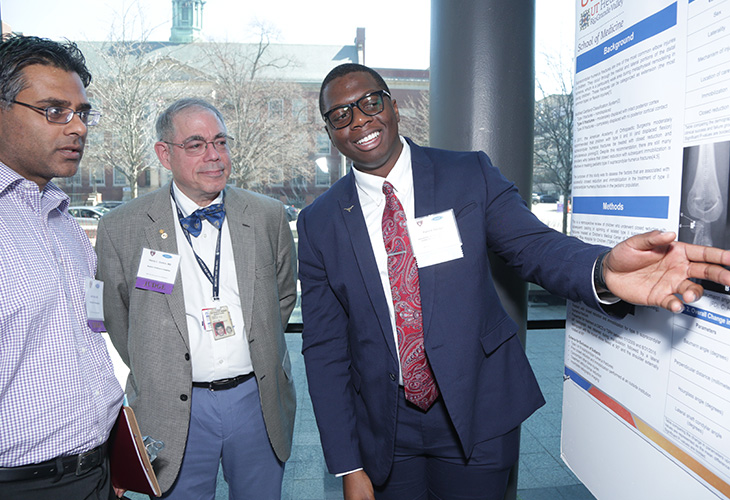 Publication Date
Summer 6-15-2022
Abstract
Objective: To compare our experience with pedicle screw insertion of the thoracolumbar spine utilizing the Cirq robot assistance device compared with traditional paradigm using fluoroscopy.
Methods: We prospectively collected data of patients undergoing pedicle screw instrumentation in the thoracolumbar spine performed by a single surgeon at three different centers. One center took delivery of the Cirq robotic assistance device. Remaining two centers used C-arm fluoroscopy. Demographic information, diagnosis, total OR time, intraoperative complications, unexpected return to the operating room, and hospital readmissions within ninety days was compared between the two cohorts.
Results: A total of 66 screws were placed during the study period. Forty percent were placed using the Cirq. Two thirds the patients had traumatic diagnoses with remaining degenerative spine disease. There were no misplaced pedicle screws in either group. While total OR time was longer in the Cirq cohort by 123 minutes (p=0.04), actual procedural time was not statistically different (p=0.11). Nonetheless there were also more hospital readmissions in the Cirq cohort compared with the C arm group (p=0.04).
Conclusions: Thoracolumbar screws inserted using C-Arm fluoroscopy utilize less total operating room time with similar accuracy compared with the Cirq robotic assistance device. Further studies are warranted.
Recommended Citation
Adams, Jennifer and Desai, Sohum, "Initial Single Surgeon Evaluation Comparing A Prospective, Multicenter Initial Evaluation of the C-Arm Fluoroscopy with the Cirq Robotic Assistance Device for Instrumentation of the Thoracolumbar Spine" (2022). MEDI 9331 Scholarly Activities Clinical Years. 60.
https://scholarworks.utrgv.edu/som9331/60
Academic Level
medical student
Mentor/PI Department
Surgery