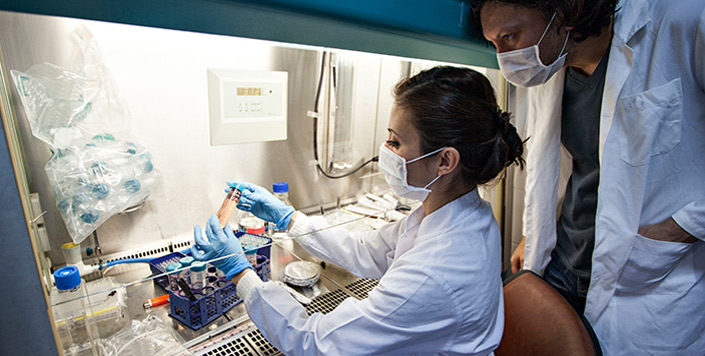 Publication Date
5-19-2023
Abstract
Monodelphis domestica (the laboratory opossum) is a marsupial native to South America. At birth, these animals are developmentally equivalent to human embryos at approximately 5 weeks of gestation, which, when coupled with other characteristics including the size of the animals, the development of a robust immune system during juvenile development, and the relative ease of experimental manipulation, have made M. domestica a valuable model in many areas of biomedical research. However, their suitability as models for infectious diseases, especially neurotropic viruses such as Zika virus (ZIKV), is currently unknown. Here, we describe the replicative effects of ZIKV using a fetal intra-cerebral model of inoculation. Using immunohistology and in situ hybridization, we found that opossum embryos and fetuses are susceptible to infection by ZIKV administered intra-cerebrally, that the infection persists, and that viral replication results in neural pathology and may occasionally result in global growth restriction. These results demonstrate the utility of M. domestica as a new animal model for investigating ZIKV infection in vivo and facilitate further inquiry into viral pathogenesis, particularly for those viruses that are neurotropic, that require a host with the ability to sustain sustained viremia, and/or that may require intra-cerebral inoculations of large numbers of embryos or fetuses.
Recommended Citation
Thomas, J., Garcia, J., Terry, M., Mahaney, S., Quintanilla, O., Silva, D. C., Morales, M., & VandeBerg, J. L. (2023). Monodelphis domestica as a Fetal Intra-Cerebral Inoculation Model for Zika Virus Pathogenesis. Pathogens (Basel, Switzerland), 12(5), 733. https://doi.org/10.3390/pathogens12050733
Creative Commons License


This work is licensed under a Creative Commons Attribution 4.0 International License.
Publication Title
Pathogens
DOI
https://doi.org/10.3390/pathogens12050733
Mentor/PI Department
Office of Human Genetics